Arctic blast to make it feel like single digits and teens today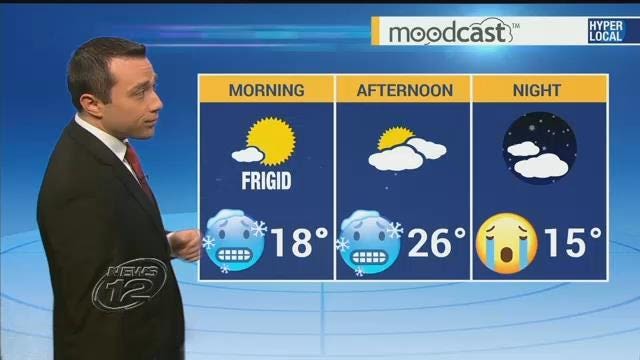 A blast of arctic air will make it feel like it's in the single digits and teens across the Hudson Valley today.
News 12 meteorologists say it will be partly sunny with the chance a few scattered flurries this afternoon.  High temperatures will be around  26 degrees, but with a northwest wind around 10-20 mph and with gusts near 30 mph, it will feel like 10 to 15 degrees during the afternoon.
Tonight will be partly cloudy and frigid with lows around 15 degrees. The feel-like temperature will be dangerously cold at 0 to 10 degrees.
Thursday will be partly sunny with scattered flurries or brief, steadier snow showers. There is not expected to be any significant accumulation. Highs will be around 31 degrees but like Wednesday, it will be breezy which will make it feel  15 to 20 degrees during the afternoon.
Friday could see some late-day snow but the majority of a storm will pass to the south of the Hudson Valley. No significant accumulation is expected.
Stay with News 12 for the latest forecast updates.