Fire department spokesman: Plumbing work sparked Yonkers fire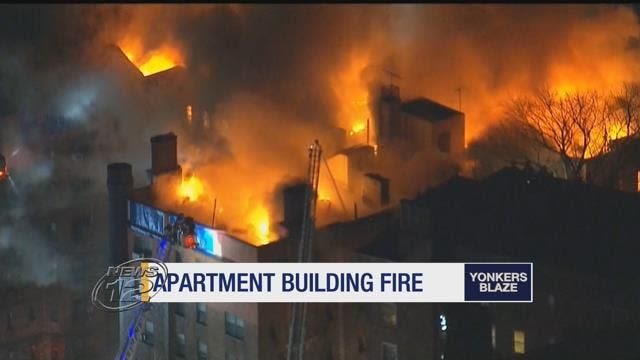 A Yonkers Fire Department official says that a massive fire at an apartment building Tuesday evening was caused by plumbers using blowtorches, welding and sweating pipes inside a sixth-floor apartment.
They say that type of work needs authorization.  City officials tell News 12 there were no active permits for any interior or plumbing work for the building, which was built in 1927.
Crews spent Wednesday knocking down hot spots at the complex large enough it has two addresses: 15 Parkview Ave. and 1 Garrett Place, on the Bronxville/Yonkers border.
More than 100 firefighters from several departments worked for hours trying to extinguish the raging fire, which started just after 6 p.m. Tuesday.
A heavy cloud of smoke blanketed the area and could be seen from several Westchester communities and parts of the Bronx.
About 30 people had to be evacuated when the fire broke out, but about 150 people from 64 apartments are now left homeless. Dozens of residents who had their vehicles parked in the basement garage are now without transportation because the vehicles were flooded.
A total of 17 firefighters suffered minor injuries.
Investigators will look into whether there were working fire alarms in the building at the time of the blaze.  Firefighters tell News 12 that they are hearing from tenants that they didn't hear anything alerting them to evacuate until they smelled the smoke.