Officials: 118 of Rockland's 144 confirmed measles cases did not have vaccine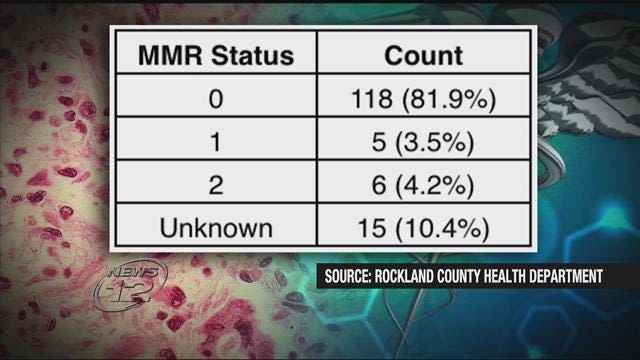 The number of measles cases has grown to 144 this week in Rockland County.
Rockland County has given 16,112 doses of the measles-preventing MMR vaccine since the outbreak started last October.
Rockland County Health Commissioner Dr. Patricia Schnabel Ruppert says the best way to treat measles in the first place is prevention.

She says many students who were not immunized fully or at all added to the outbreak

Ruppert has been leading the county's efforts to vaccinate residents.

"If you have a room full of people who are not immune to the measles and one person comes into the measles, there is a 90 percent chance of people in that room coming down with the measles," says Ruppert.

Statistics released by the county Wednesday show that out of the 144 confirmed cases of measles, 118 of the patients say they did not have an MMR vaccine, five people had only one dose and six had two.

Ruppert says measles causes complications, and the most common complication is pneumonia, which can be fatal.
The outbreak was mostly contained to the Hasidic Jewish community.
Dr. Ruppert began excluding unvaccinated children from schools with confirmed cases in the hardest hit areas, including New Square, Spring Valley and Monsey.

The county says that out of the vaccinations administered, 11,000 of them were to children ages 1 to 4 years old.