Car rolls over during police chase; 2 apprehended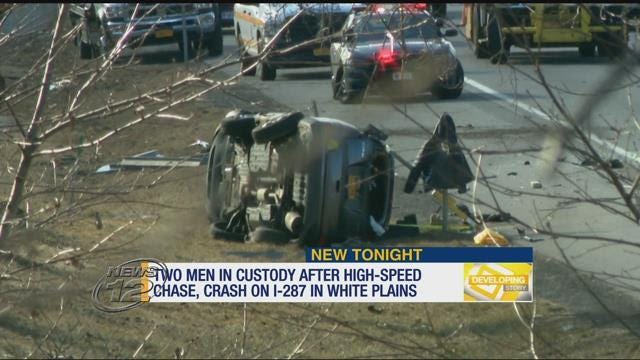 Two people were apprehended Tuesday following a police chase on the Hutchinson River Parkway.
Westchester County police officers received a Real Time Crime Center alert of a suspected stolen car on the Hutchinson River Parkway near Mamaroneck Road in White Plains around 1:50 p.m.

Police attempted to stop the Honda CR-V, but say the driver sped northbound on the parkway and continued to the exit ramp leading to eastbound Westchester Avenue/I-287. At the top of the ramp, the driver lost control, crossed both lanes of Westchester Avenue, crashed through a fence and flipped the car. The car came to rest in a small median between the left lane of eastbound Westchester Avenue and the right lane of eastbound I-287 in the town of Harrison.
One man was apprehended by police quickly after the rollover. Officials say the other man ran across three lanes of eastbound I-287, three lanes of westbound I-287, and two lanes of westbound Westchester Avenue. County police officers pursued him on foot despite the dangerous traffic conditions and were able to apprehend him.
Both suspects are receiving medical attention for minor injuries. Police did not release their identity or charges.