Yankees place Harrison Bader on 10-day IL but get Gold Glove catcher Jose Trevino back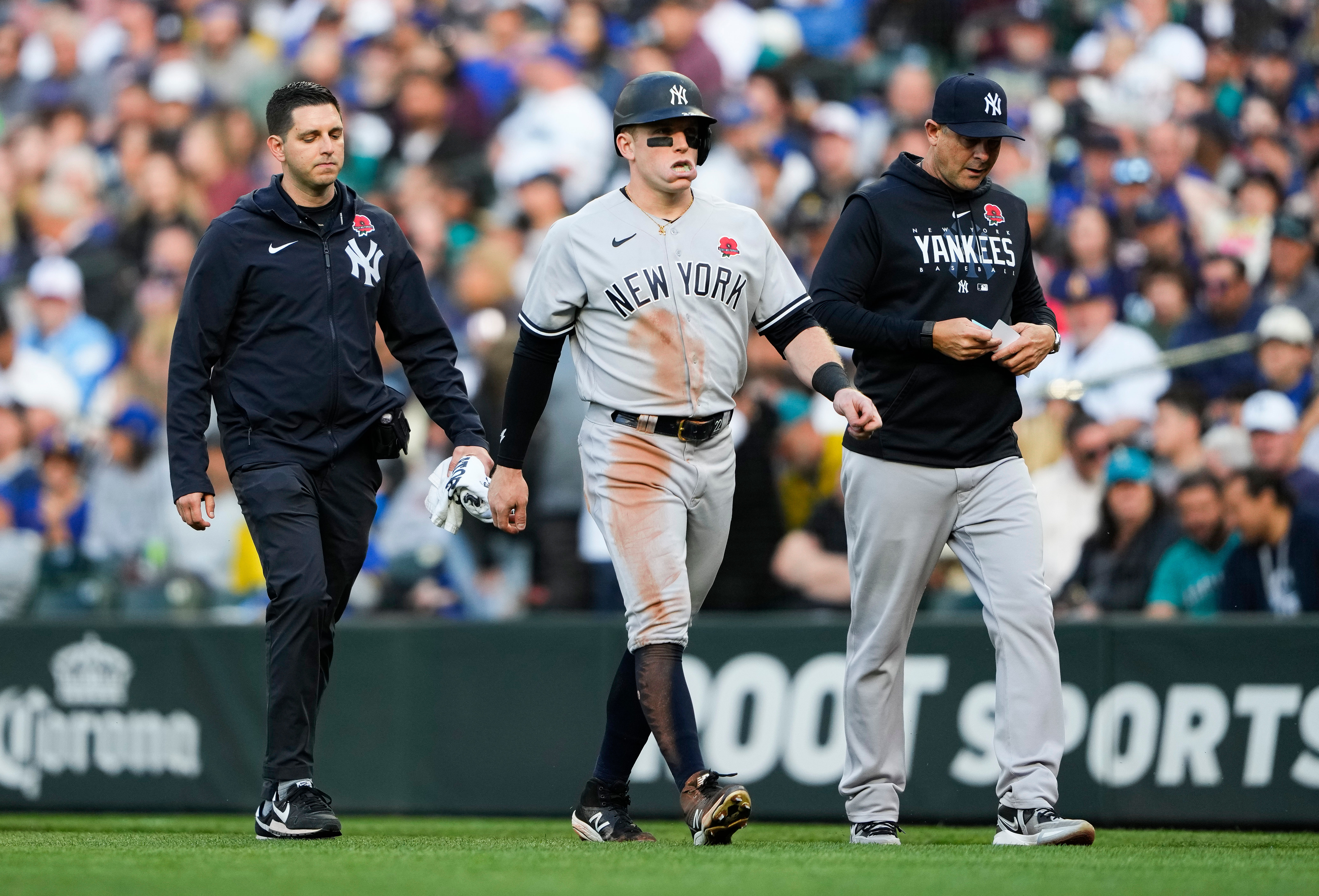 The New York Yankees placed outfielder Harrison Bader on the 10-day injured list with a right hamstring injury on Tuesday.
Bader left Monday's series opener in Seattle in the third inning after beating out an infield single. He was replaced by Greg Allen, who started in center field on Tuesday.
Bader had an MRI on Tuesday that revealed a low-grade strain, and shortly before the game the Yankees made the move to put him on the injured list.
"Probably be a couple weeks, but we'll see. Obviously, a guy like him really, really relies on the legs," Yankees manager Aaron Boone said. "It wasn't bad, but enough to know that at least this 10 days are going to be needed."
Bader strained his left oblique muscle during spring training and the Gold Glove centerfielder didn't make his season debut until May 3. He is hitting .267 with six homers, 19 RBIs and six stolen bases.
Franchy Cordero was recalled from Triple-A Scranton/Wilkes-Barre to take Bader's spot.
Bader's injury is yet another setback for the Yankees, who did get some good new on the injury front as Gold Glove catcher Jose Trevino returned to the lineup after missing about two weeks with a hamstring injury. New York optioned catcher Ben Rortvedt to Scranton/Wilkes-Barre.
Anthony Rizzo was out of the lineup for a second straight game due to a stiff neck but said the soreness was improving and expected to be back on the field by Friday at the latest. Boone said he didn't rule out Rizzo returning for Wednesday's series finale against the Mariners, but Friday in Los Angeles seems the more likely target.
Rizzo was hurt in last Sunday's win over San Diego after a collision with Fernando Tatis Jr. As the first baseman leaned back to apply the tag, Rizzo collided with Tatis. Rizzo stayed on the ground for a few minutes and headed back to the clubhouse as the Yankees batted.
"It was just a weird play," Rizzo said. "I wasn't expecting the bang-bang like that as far as him coming in standing. Guys usually slide when it's that close. Startled more than anything."
The Yankees also rolled out a star-studded lineup at Double-A Somerset on Tuesday that included Giancarlo Stanton, Josh Donaldson and right-handed pitcher Tommy Kahnle.
Donaldson went 1 for 4 in his fourth rehab game as he comes back from a strained right hamstring and Stanton was hitless in three at-bats in his first appearance since injuring his left hamstring on April 15. Kahnle pitched one inning, giving up one run, one hit and walked two.
Boone said the hope is Kahnle will join the team in Los Angeles this weekend. He did not have a timeline on Stanton.
"We'll see. Get through today and see where we're at. We'll just kind of listen to him and hear what he has to say after today's game and then we'll continue to make a call on it," Boone said.