Tory Lanez gets 10 years in prison for shooting Megan Thee Stallion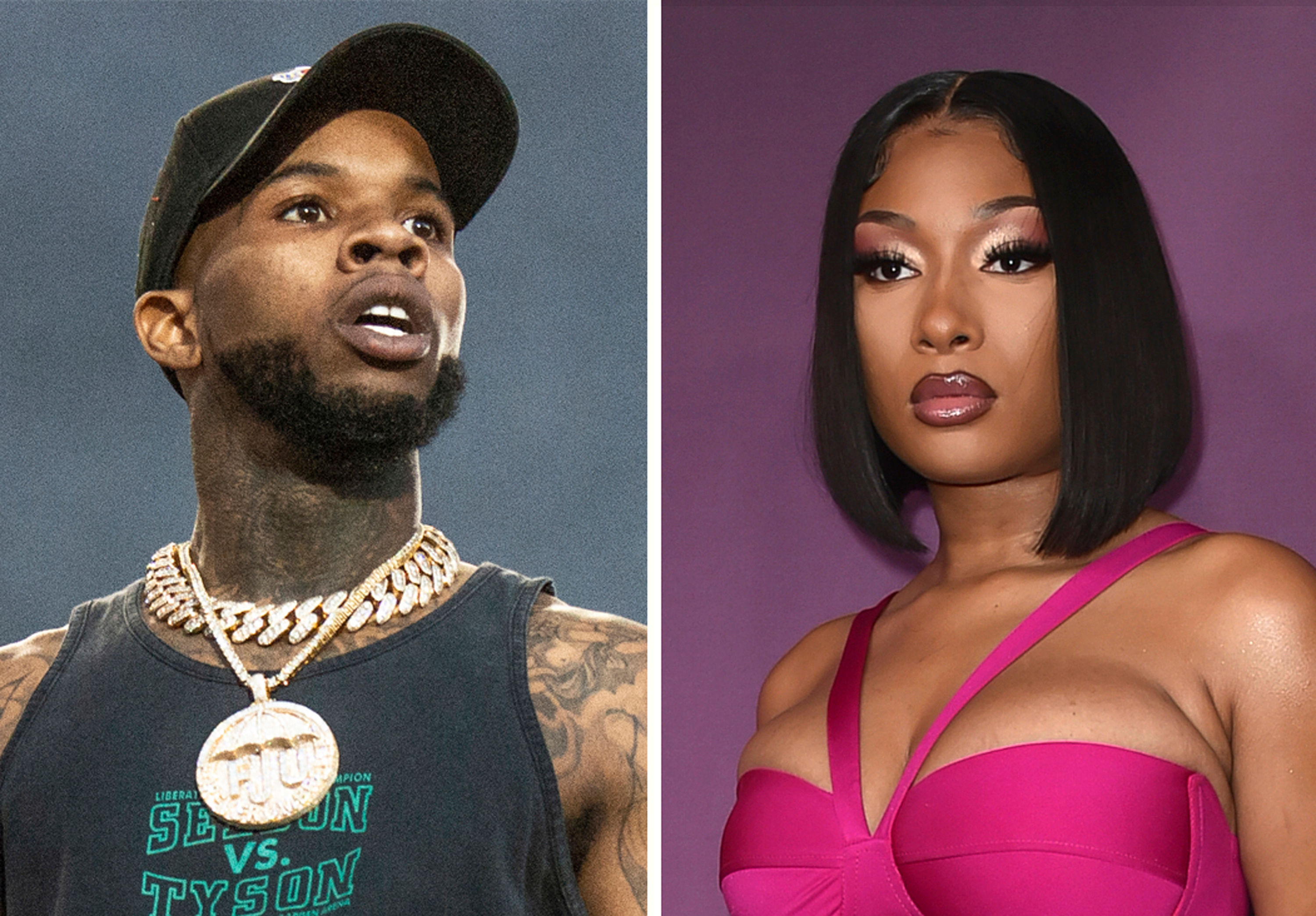 A judge sentenced rapper Tory Lanez to 10 years in prison Tuesday for shooting and wounding hip-hop superstar Megan Thee Stallion.
Los Angeles Superior Court Judge David Herriford handed down the sentence to the 31-year-old Lanez, who was convicted in December of three felonies: assault with a semiautomatic firearm; having a loaded, unregistered firearm in a vehicle and discharging a firearm with gross negligence.
The sentence brings an end to a dramatic trial that created a cultural firestorm in the hip-hop community, churning up issues including the reluctance of Black victims to speak to police, gender politics in hip-hop, online toxicity, protecting Black women and the ramifications of misogynoir, a particular brand of misogyny Black women experience.
Herriford said it was "difficult to reconcile" the kind, charitable person and good father many people described Lanez as being during the sentencing hearing with the person who fired the gun at Megan.
"Sometimes good people do bad things," Herriford said. "Actions have consequences, and there are no winners in this case."
Megan testified that Lanez fired the gun at the back of her feet and shouted for her to dance as she walked away from an SUV in which they had been riding in July 2020, after leaving a pool party at Kylie Jenner's Hollywood Hills home. She had to have surgery to remove bullet fragments.
"Since I was viciously shot by the defendant, I have not experienced a single day of peace," Megan said in a statement read by a prosecutor on Monday. "Slowly but surely, I'm healing and coming back, but I will never be the same."
Lanez asked Herriford for mercy just before the judge delivered his sentence. Lanez requested either probation or a minimal prison sentence.
"If I could turn back the series of events that night and change them," I would, Lanez continued. "The victim was my friend. The victim is someone I still care for to this day."
He added, "Everythig I did wrong that night, I take full responsibility for."
Before the sentencing, Lanez's father, Sonstar Peterson, choked back tears as he talked about how the rapper's mother died when he was 11, just days after she first showed symptoms of the rare blood disorder that would lead to her death.
"I don't think anybody ever gets over that," he said of their youngest child, whose legal name is Daystar Peterson. "But his music became his outlet."
Lanez began releasing mixtapes in 2009 and saw a steady rise in popularity, moving on to major-label albums. His last two reached the top 10 on Billboard's charts.
Megan Thee Stallion, now 28, was already a major rising star at the time of the shooting, and her prominence has surged since. Born Megan Pete, she won a Grammy for best new artist in 2021, and she had No. 1 singles with "Savage," featuring Beyoncé, and as a guest on Cardi B's "WAP."
The elder Peterson, who is a Christian minister, was one of several people who gave statements on Lanez's character and charitable giving - as did the mother of Lanez's young son, who spoke in court about his qualities as a father. Dozens more wrote letters to Herriford, including rapper Iggy Azalea, who asked the judge to hand down a sentence that was "transformative, not life-destroying."
Herriford said Lanez's son, who is about 6 years old, also sent in a handwritten letter, but the judge did not describe it further.
Lanez's family and supporters have packed the courtroom; during the trial, they contended his prosecution was unjustly brought on by Megan and powerful figures in music. After the verdict was read in December, Lanez's father denounced the "wicked system" that led to his son's conviction; on Monday, Sonstar Peterson apologized to Herriford for the outburst.
Lanez has been jailed since his conviction. A chaplain from Los Angeles County jail said Monday in court that Lanez has led daily prayer groups that have eased tensions in the protective custody unit where he has been held.
Herriford denied a motion from Lanez's defense attorneys for a new trial on May 9. Such motions immediately following a conviction are common and rarely succeed. Attorneys for Lanez had argued that there was insufficient evidence to convict him, and some of the evidence presented to jurors should not have been allowed.
The lawyers argued Megan's testimony that Lanez urged her not to go to police because he was on parole and would be in serious trouble was both untrue and an improper allowance of prior bad acts. And they said DNA evidence that prosecutors used to argue Lanez was the likely shooter fell well short of industry standards.
Lawyers for Lanez had said in a sentencing memo that he should get only probation and be released from jail to enter a residential substance abuse program. They plan to appeal the conviction.
Herriford found earlier Monday that Megan was an especially vulnerable victim when she was shot, but that Lanez was not especially cruel or callous in firing at her.
"She has permanent scarring, physically," Deputy District Attorney Alexander Bott said in court. "And she certainly will have emotional scarring for the rest of her life."
(Copyright 2023 The Associated Press. All rights reserved. This material may not be published, broadcast, rewritten or redistributed without permission.)