Spring Valley street named on Veterans Day for fallen Navy seaman from Rockland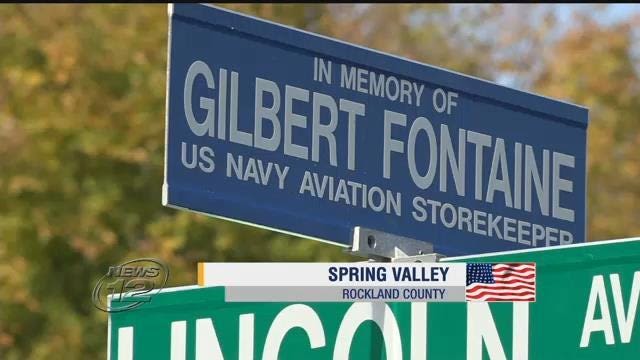 The American Legion Post 199 in Spring Valley dedicated a street sign in honor of a U.S. Navy seaman from Rockland County on Veterans Day.
Gilbert Fontaine lost his life during Operation Desert Shield/Desert Storm.  He died nearly 30 years ago at the age of 22.
He was a Navy aviation storekeeper during the Gulf War and was the first New Yorker to die during the operation.
Fontaine's sister, Carline Gordon, says she's proud of her little brother, and that she and her family will always be a part of the military community.
"When you have someone that close to you that's taking a part of defending our country, you're invested. I mean we're still invested. Every time we hear someone passing, you know serving their country, we feel the pain of that family. We kind of want to hug them and just kind of let them know we know what you're going through," she says.
Spring Valley Mayor Alan Simon attended the event, along with veterans from around Rockland.