Siegenthaler, Schmid lead Devils past Rangers, series tied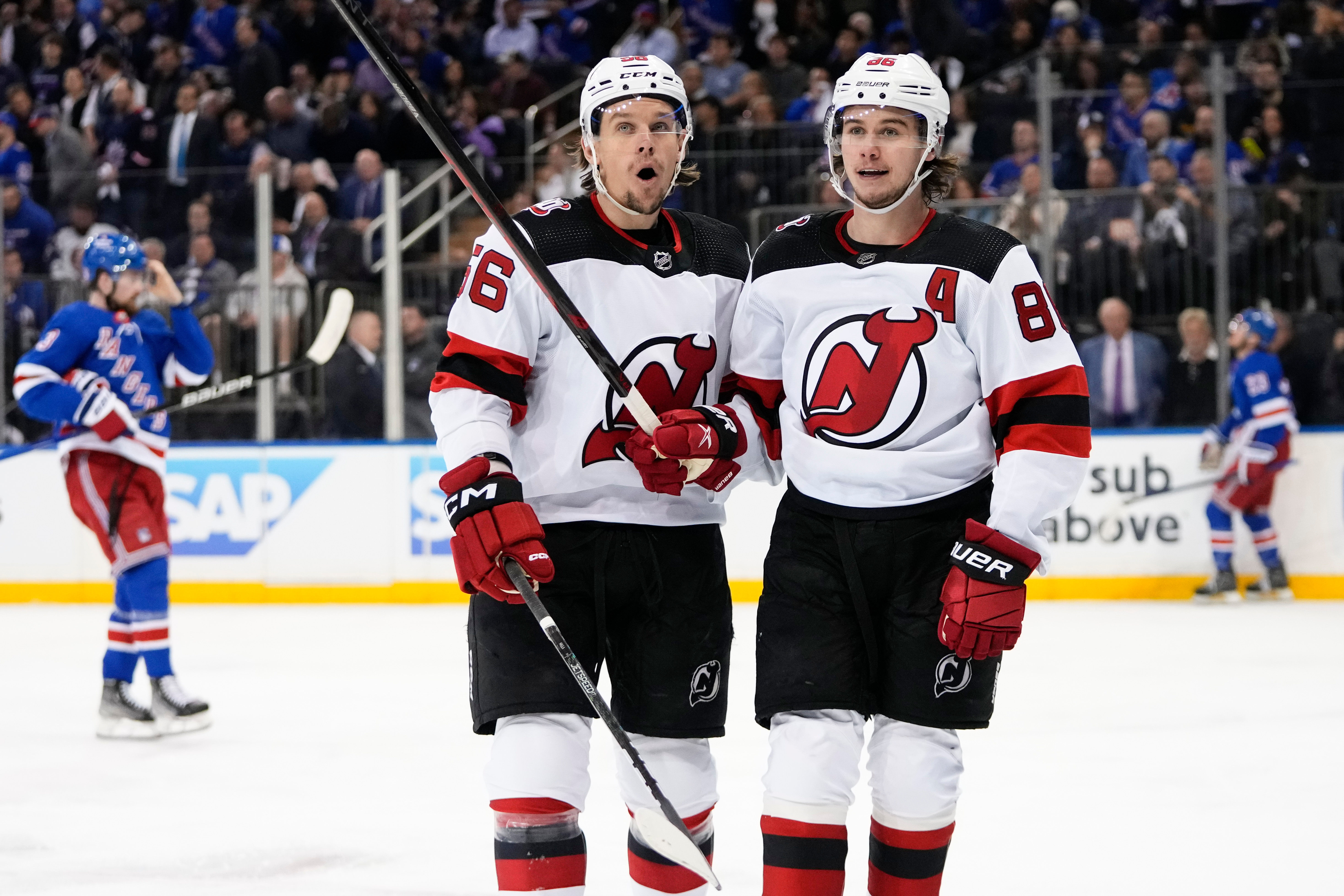 Jonas Siegenthaler scored the tiebreaking goal in the third period, Akira Schmid had 22 saves in another shutdown start and the New Jersey Devils beat the New York Rangers 3-1 Monday night to even their first-round playoff series at two games apiece.
Jack Hughes and Ondrej Palat also scored for New Jersey, which got its second straight tight win at Madison Square Garden after a pair of lopsided losses at home.
Vincent Trocheck scored for the Rangers, and Igor Shesterkin stopped 20 shots. New York has totaled just two goals in the last two games after scoring five each in the first two.
Game 5 is at Prudential Center in Newark, New Jersey, on Thursday night, with Game 6 back at MSG on Saturday night.
Schmid, making his second straight start after Vitek Vanecek allowed nine goals on 52 shots in the first two games, was sensational again for the Devils. The 22-year-old has given up just two goals on 58 shots the last two games.
He had 10 saves in the first period, six in the second and six in the third of this one.
Trocheck tied the score at 1 at 1:42 of the third as he scored in front off a rebound of Chris Kreider's backhand attempt off a pass from Patrick Kane. It was Trocheck's first of the series and ninth career playoff goal.
Siegenthaler regained the lead for New Jersey at 8:22 as he got a cross-ice pass from Nico Hischier and fired a shot from the left circle that went under Shesterkin's glove and in off the right post.
Less than 30 seconds later, Hischier slid into the Rangers' goalie on a driving attempt. Both players were down briefly before getting up.
The Rangers pulled Shesterkin for an extra skater with 2 minutes remaining, but Palat sealed the Devils' win with an empty-netter with 26 seconds remaining.
Vladimir Tarasenko got free down the left side and fired a shot that Schmid turned aside with a right pad save to keep the Rangers off the scoreboard about eight minutes into the second period.
New Jersey defenseman Erik Haula had a short-handed breakaway with 7 1/2 minutes remaining in the middle period, but his attempt was wide.
Shesterkin tried to spark the Rangers' stagnant offense with a long lead pass to Kaapo Kakko up the right side. Kakko found Alexis Lafrenière streaking up the middle toward the net, and Lafrenière spun around and sent a shot wide left of Schmid with about four minutes left in the second.
Schmid made a pair of nice saves 2 1/2 minutes into the game, first on a shot by Kakko and then a tip by Lafrenière. Hughes then got the puck on a breakaway, slowly skated in on Shesterkin and went forehand-backhand-forehand before sliding the puck inside the left post at 2:50. It was his third goal of the series.
___
Follow Vin Cherwoo at http://www.twitter.com/VinCherwooAP
___
AP NHL Playoffs: https://apnews.com/hub/stanley-cup and https://twitter.com/AP_Sports
(Copyright 2023 The Associated Press. All rights reserved. This material may not be published, broadcast, rewritten or redistributed without permission.)
4/24/2023 9:59:12 PM (GMT -4:00)