Some relief from heat and humidity, pop-up storms still possible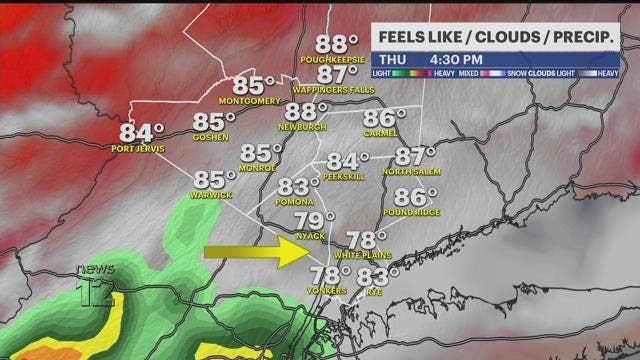 The Hudson Valley will experience a little relief today from the heat and humidity that has gripped the region, but some pop-up storms are still possible this afternoon.
News 12 meteorologists say today will be mostly cloudy with highs around 85 degrees. It's still fairly humid, but not as oppressive as the past few days.
There will be a scattered shower/downpour chance, mainly just for Rockland and Westchester counties, but a lesser chance than Wednesday, and they shouldn't be as intense as some of those pop-up downpours yesterday.
Friday will see a mix of clouds and sun with an isolated shower or storm. Most of the day is dry with highs around 86 degrees.
Saturday will be the better of the two weekend days with a mix of sun and clouds. The high will be 83 degrees.
The overnight low will be 67 degrees.
Sunday will be mostly cloudy with scattered showers and a high will be 79 degrees.
Stay with News 12 for the latest forecast information, and download the News 12 app for weather updates on the go.