Protesters stage 'unvaccinated civil disobedience' sit-in at Palisades Mall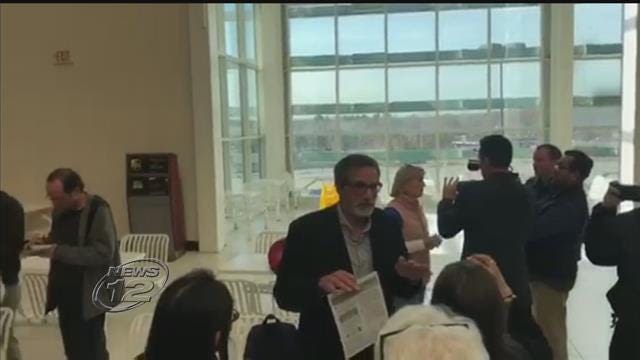 A group rallied at the Palisades Mall in West Nyack Thursday to express displeasure with Rockland County's emergency measles declaration.
The group held an "unvaccinated civil disobedience" sit-in. The protesters said they were standing in solidarity with the parents who choose to not vaccinate their children against the measles.
A state of emergency was put in place at midnight Wednesday in Rockland County, banning anyone under the age of 18 who has not been vaccinated from public places for the next 30 days.
If a minor is found to have violated the ban, their parents are subject to punishment.
"Healthy people have a right to mingle about their community. Healthy children have a right to go to school. They have religious objections. Their parents have bona fide legal objections and exemptions from school," says Rita Palma, of Long Island.
There were no unvaccinated protesters under the age of 18, but News 12 asked a spokesperson from the Clarkstown Police Department what would have happened if one were to join the protest. He referred News 12 to the district attorney's office.  It said they would be treated on a case-by-case basis.
"I think it's a fear tactic to get people to vaccinate," says Steven Urow, of New Jersey. "The measles isn't killing people."

The Centers for Disease Control and Prevention says measles can kill, although the the last recorded measles fatality in the U.S. was in 2015.
"They merely reaffirm that more work must be done to educate those who have been misled by junk science and misinformation," Rockland County Executive Ed Day said in response to the protest.
The measles outbreak began this past October when unvaccinated travelers visited ultra-Orthodox and Hasidic communities in Rockland.
A total of 156 people have been diagnosed with the highly contagious virus as of Wednesday.
Protesters push back against Rockland County Executive Ed Day's state of emergency