Protesters decry Trump emergency declaration in rally outside Schumer's office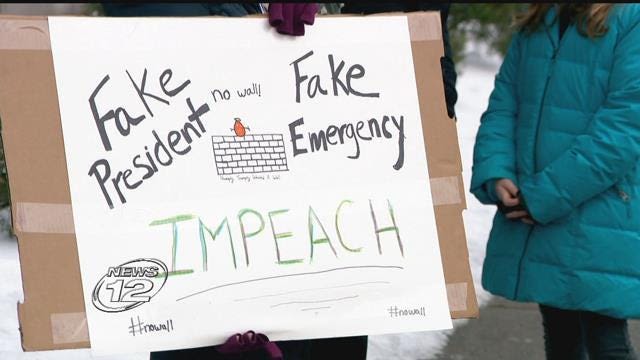 Hundreds of people rallied in front of Sen. Charles Schumer's Peekskill office this Presidents Day in protest of President Donald Trump's national emergency declaration.
The protesters demanded action after Trump declared a national emergency along the southern border after Congress refused to fund $5.7 billion for the wall. They told News 12 that they hope leaders on both sides will step up and say there is no imminent danger to the U.S.
Others say they're outraged the president wants to take funding from military construction projects, counternarcotics programs and a Treasury Department asset forfeiture fund to build a longer border barrier.
"This is not an emergency," said Nancy Vann, of Safe Energy Rights Group.
Baila Lemonik, the organizer of the protest, says there are more effective ways to secure the southern border like adding more security or vehicle scanners.
House Democrats plan on introducing and voting on a resolution that would rescind the president's declaration. The White House already promised Trump will issue the first veto of his presidency if it passes.
"People are outraged at this unprecedented power grab by the President and his continued onslaught against people who want nothing more than to be part of the American Dream. Shameful," says Sen. Pete Harcham, who also attended the rally.