Police clear Flyers mascot Gritty following assault allegation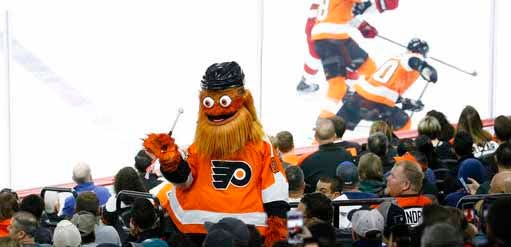 Police announced Monday that they have closed their investigation into allegations that Philadelphia Flyers mascot Gritty punched a teenage fan in the back.
According to a Philadelphia Inquirer report, Chris Greenwell and his 13-year-old son attended the event and snapped a photo with one the most popular mascots in all of sports. Greenwell says his son "playfully" patted Gritty on the top of the head and as his son walked away, Gritty punched him "as hard as he could."
Philadelphia police announced in a statement, "That investigation, which has been completed and is no longer active, determined that the actions of the individual portraying the Flyers' mascot did not constitute physical assault as alleged."
Greenwell told the Inquirer that his son suffered from mild pain and a back bruise.
The Flyers also released a statement, saying: "We are pleased that the Philadelphia Police Department concluded there was no merit to the alleged claim. The police department's statement confirms our thorough internal investigation that found no evidence of the described actions ever having taken place."
After some back and forth, the team and the Greenwells couldn't come to an agreement, so the family reported the incident to police.
"I respect the police's decision, but I stand by what my son told me and what I saw, and I just want to put this behind me," Chris Greenwell
told the Inquirer Monday.
Greenwell had said following the initial report that he would get rid of his season tickets after 22 years.