Overturned tractor-trailer snarls traffic on I-287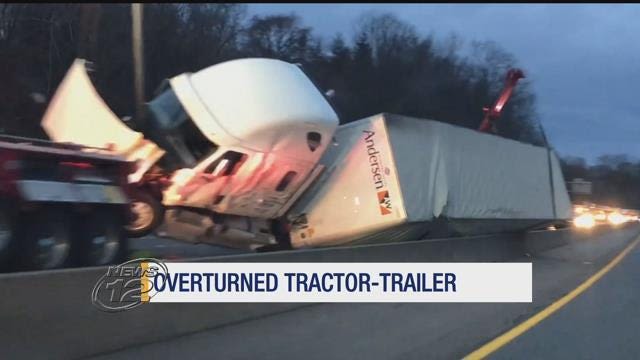 An overturned tractor-trailer snarled traffic on I-287 in Port Chester this morning.
Police say the crash happened just before 5:30 a.m. when the driver of a tractor-trailer carrying Anderson windows overturned on the eastbound side of I-287 between Exits 10 and 11. The rig and trailer could be seen on its side resting against the barrier and guard rail in the lefthand lane. No other vehicles were involved in the accident.
Traffic during the morning rush was backed up all the way past White Plains.
A crane was brought in to pull the rig and trailer upright and cart it out.
Traffic finally started to flow around 9 a.m., but it took a while for residual backups to clear.
Police say the driver, Colin Sears, 47, of Pennsylvania, suffered only some minor scrapes, but was sent to Westchester Medical Center as a precaution. He was issued two traffic violations.