Mount Vernon DPW: "Enough is enough"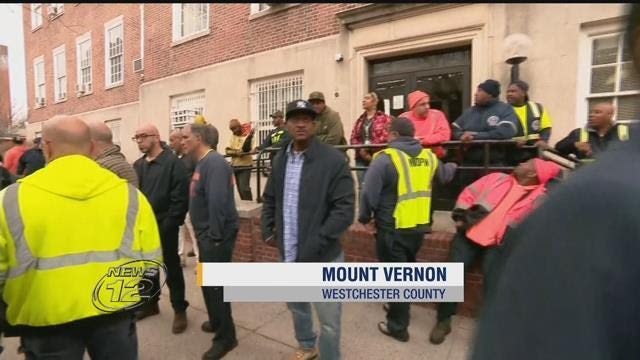 Dozens of DPW workers are expressing their anger at city hall in Mount Vernon today.
Workers stormed the office of Mount Vernon Comptroller Deborah Reynolds' office to voice their complaints. They say they have a statement from Reynolds alleging she said that a recent accident involving a garbage truck was hoax.
On March 5, a runaway garbage truck slammed right into a car and a house in Mount Vernon. The incident is just the latest in a series of incidents involving city facilities. Last month, rubber gloves were discovered stuffed in sanitation trucks in what appeared to be sabotage.
One worker expressed his anger to News 12. "Enough is enough. This is no game. We have fellow workers who could have died in that truck. Mount Vernon is the worst municipality throughout Westchester."   
Reynolds wasn't in the office today, and there has been no response by her or her staff.
The workers moved their gathering outside city hall after Mount Vernon police told them to vacate the premises.