Mets' Scherzer loves 'cat-and-mouse' game of MLB's new rules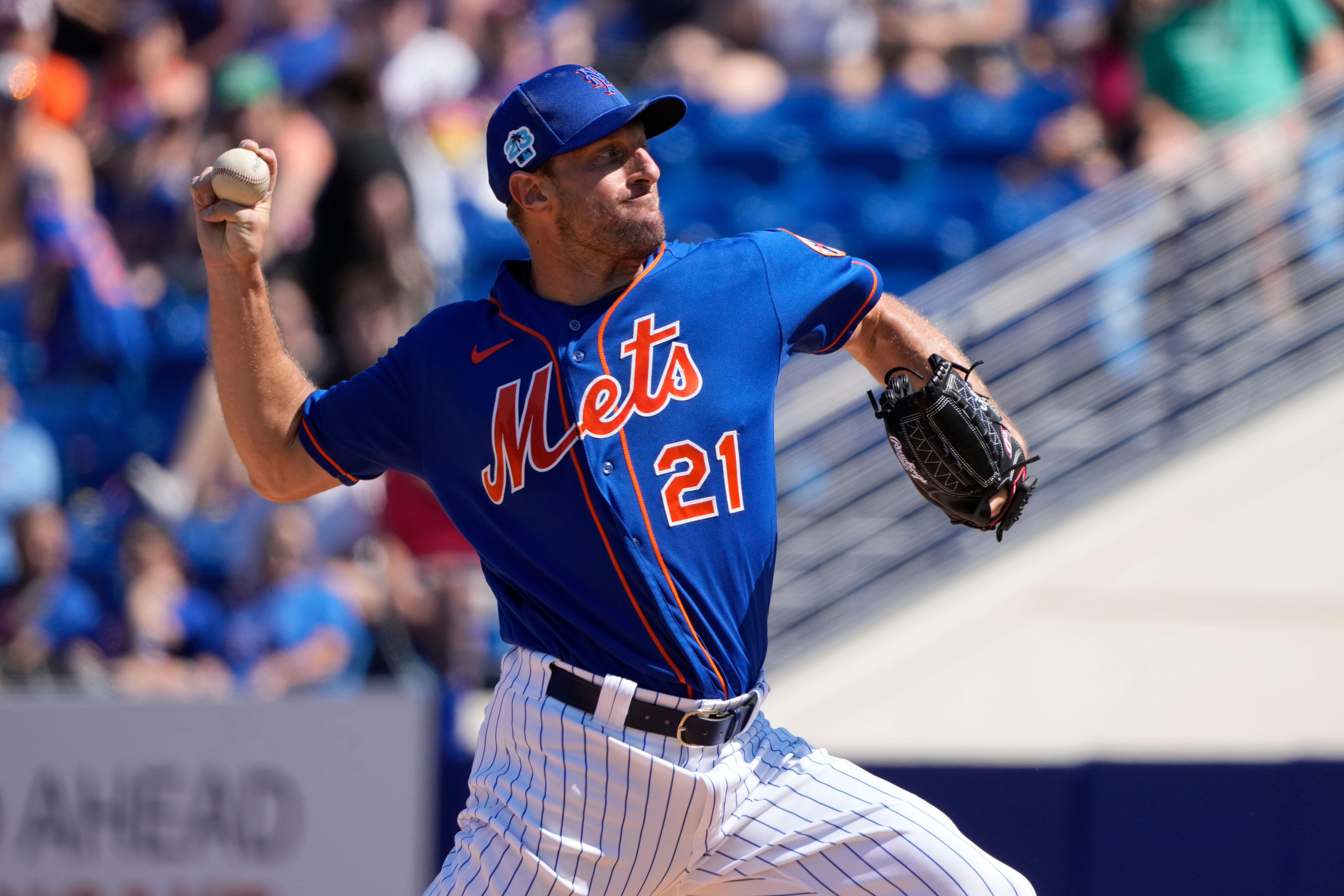 New York Mets right-hander Max Scherzer described pitching under Major League Baseball's new rules as a "cat-and-mouse" game.
Contrary to previous years, Scherzer feels the pitcher finally has control of the tempo because of the new pitch clock.
In his first start of the Grapefruit League schedule, Scherzer allowed a run in the second inning but struck out five while working the first two innings of the Mets' 6-3 win over Washington.
"Really, the power the pitcher has now - I can totally dictate pace," the three-time Cy Young Award winner said. "The rule change of the hitter having only one timeout changes the complete dynamic of the hitter-and-pitcher dynamic. Yeah, I love it."
The pitch clock is among a series of new rules for this season - including limits on infield shifts and larger bases - that MLB hopes will improve pace of play and introduce more action into the game.
The average game time through three days of spring training is 2 hours, 39 minutes, down from an average of 3:01 for all of spring training last year.
Scherzer says he is learning to play around with the pitch clock.
Washington's Michael Chavis, the second hitter in the second inning, stepped out of the box when he felt Scherzer was taking too long. That was fine with Scherzer.
The right-hander held the ball for more than 10 seconds before delivering the next pitch as Chavis had to remain in the batter's box, locked eyes with Scherzer. The veteran pitcher felt he had imposed his will, even though Chavis ultimately singled to right.
"I can work extremely quick. And I can work extremely slow," Scherzer said. "There's another layer here to be able to mess with the hitter's timing.
"I can come set even before the hitter's in the box. I can't pitch until eight (seconds left on the clock). But as soon as his eyes are up, I can go. If his eyes are up with 12 seconds to go, I can fire.
"I had the conversation with the umpire (David Rackley) to make sure that's legal. And that is (legal). I'm just getting used to how this is going to be in 2023."
According to MLB, there were 69 pitch-timer violations through the first 35 spring training games over the weekend - including 35 violations in 16 games Sunday.
While Scherzer thinks the timer is working in pitchers' favor, hitters aren't complaining, either.
"I like it," Yankees star Aaron Judge said. "I think you can kind of play around with it a little bit. I think it definitely speeds up the game. Anything that kind of keeps the pitcher moving and on the go, and hopefully keep him out of breath, I'm looking forward to it."
Cardinals manager Oliver Marmol said MLB is providing updates - nearly in real time - on the rules changes package that is making this spring training unique.
The two major changes are a pitch clock and a limit on extreme infield shifts.
"They did a really nice job of sending out a memo this morning with all the things that took place yesterday and questions that players and managers that just had to be addressed in order that you can cover it with your staff and club as you feel appropriate," Marmol said. "So we did that with our staff and brought two different points with our players because they've done a really good job of communication."
There were more hiccups on Sunday throughout the Cactus and Grapefruit League games, but most took the changes in stride.
Rockies reliever Daniel Bard was called for a ball after throwing a warmup pitch after the 30-second deadline heading into an inning. The 30-second mark before innings was also a source of confusion during the Cardinals-Marlins game. Two Cardinals pitchers were called for balls before the start of innings before, according to Marmol, the umpires gathered and realized they were interpreting the rule incorrectly.
"It's spring training for everybody," Marmol said. "Those things will get ironed out before we get out of here."