Jimmy Butler helps Heat to 103-84 Game 7 win over Celtics and spot in NBA Finals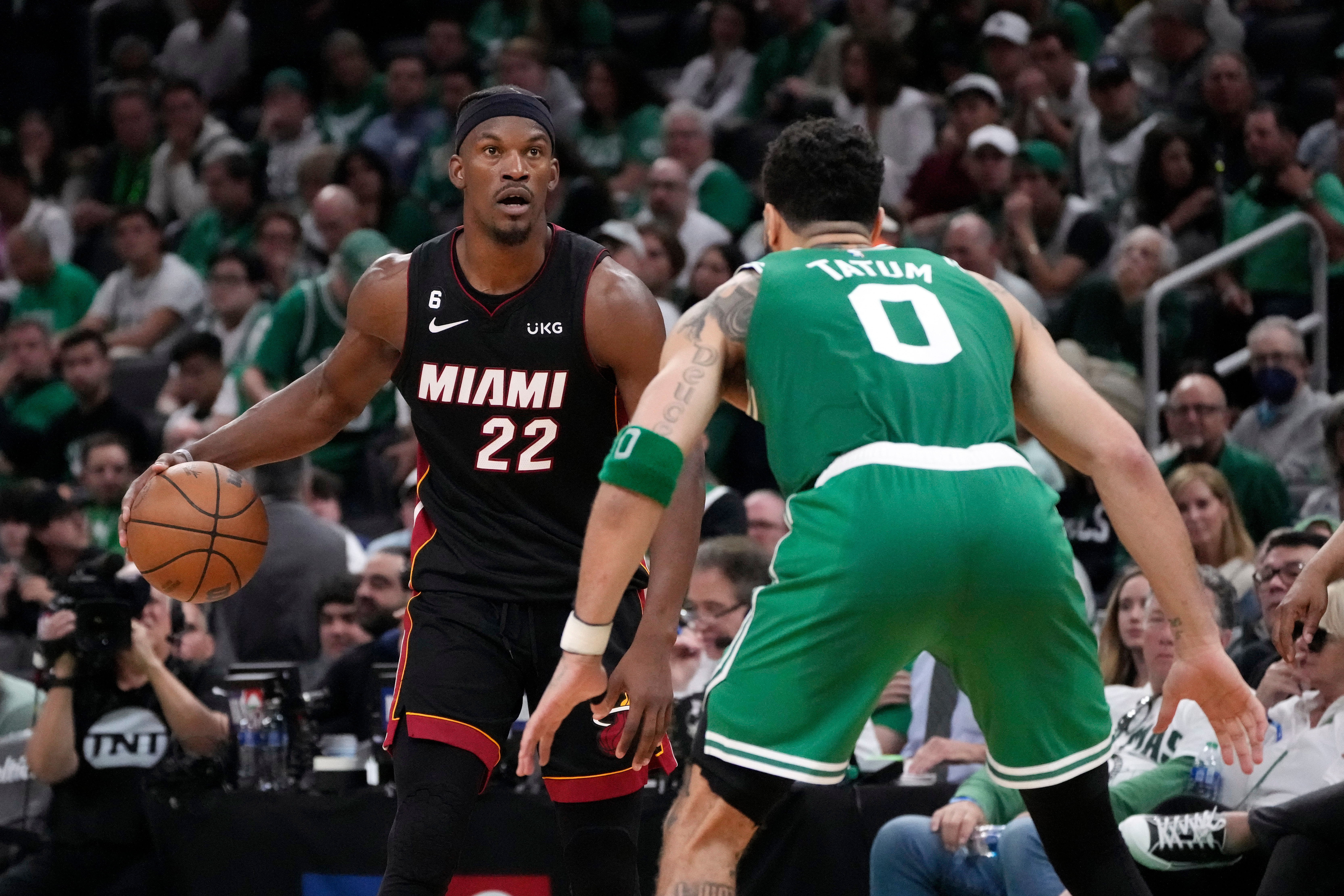 No unprecedented comeback, no last-tick miracle, no cavalcade of higher seeds is going to prevent these Miami Heat from playing for the NBA title.
Eastern Conference finals Most Valuable Player Jimmy Butler scored 28 points, and Caleb Martin had 26 points and 10 rebounds to help the eighth-seeded Heat beat Boston 103-84 in Game 7 on Monday night and advance to the NBA Finals for the second time in four seasons.
A year after losing a seventh game to the Celtics, Miami recovered from blowing a 3-0 lead in the series and advanced to face the Western Conference champion Nuggets.
Game 1 is Thursday night in Denver, where the top-seeded Nuggets have been waiting since sweeping the Los Angeles Lakers on May 22.
"We stayed together as a group. As a team, we talked about going and getting a tough one on the road. We did just that," Butler said. "But we're not satisfied. We're excited. We're happy. But we've got one more to get."
Bam Adebayo scored 12 points with 10 rebounds for Miami, which is the first No. 8 seed to reach the NBA Finals since the 1999 New York Knicks.
To get there, the Heat had to recover after losing the play-in opener against Atlanta and beat Chicago in a second-chance play-in. They eliminated the top-seeded Milwaukee Bucks in five games, then the fifth-seeded Knicks in six.
They put Boston in a 3-0 hole - a deficit no NBA team has ever come back from. Three losses later, Miami was on the brink of the wrong kind of history.
"Sometimes you have to suffer for the things that you really want," coach Erik Spoelstra said. "This group has shown fortitude, when there are inevitable letdowns and failures, to have that perseverance to pick yourself up, to have that collective spirit to keep on forging ahead until you get to accomplish what you want to."
Game 6 hero Derrick White scored 18 for Boston, which was hoping to become the first NBA team in 151 tries to advance after falling behind 0-3 in a best-of-seven series. Jaylen Brown scored 19 with eight rebounds but went 1 for 9 from 3-point range and committed eight turnovers.
Jayson Tatum, who scored a Game 7 record 51 points against Philadelphia in the conference semis, had 14 points with 11 rebounds after turning his ankle on the first play of the game and limping through 42 minutes.
"When we were down 3-0, the thing was: How do we want to be defined?" said Celtics coach Joe Mazzulla, who took over the team on the eve of training camp when Ime Udoka was suspended for inappropriate workplace behavior. "I thought they showed a lot of character by even getting to this point."
The Celtics led by five points early before conceding a 14-4 run to end the first quarter and then giving up 16 of the first 22 points in the second. Miami led 76-66 lead at the end of three, then Tatum missed a layup to open the fourth quarter, and Brown followed with back-to-back turnovers; at the other end, Martin hit a 3-pointer and Butler hit a pair of baskets to give Miami an 83-66 lead.
Boston never got with 15 after that, with the sold-out TD Garden crowd alternating between stunned silence, angry boos and, finally, polite applause before they began filing out early.
"We failed. I failed and we let the whole city down," Brown said. "In spite of whatever circumstance we had this year we rose to the occasion. We got to this point and we came up short."
The Heat took the first three games – two of them in Boston – and needed just one more win to reach to the NBA Finals. None of the 150 teams that have opened a 3-0 lead in an NBA playoff series has ever failed to advance.
But the Celtics hyped themselves up by watching a documentary on the Boston Red Sox comeback from a 3-0 deficit against the New York Yankees on their way to the 2004 World Series. When the Celtics took the floor for Game 4 in Miami, ex-Yankees Alex Rodriguez and Derek Jeter were sitting courtside.
Boston won Games 4 and 5 by double digits and had a cushy lead in Game 6 before Miami rallied back to take a one-point lead with 3 seconds left. The Heat appeared to clinch it when Marcus Smart's desperation 3-pointer rimmed out, but White scored on a putback in the final 10th of a second to force a decisive seventh game.
Back at home, the Celtics greeted their fans with a pregame video intercutting highlights from the Red Sox comeback with their own. 2004 Red Sox catalyst Kevin Millar recorded a message to hype up the crowd.
But the heavily favored Celtics couldn't repeat the feat.
"The hole we put ourselves in, it's hard. No one's climbed out of that hole," said Malcolm Brogdon, who returned after missing Game 6 with an elbow injury but scored zero points in seven minutes. "It was the same tonight: We couldn't climb out of the hole we created.
"I thought we showed how resilient we were, how good of a team we are, climbing out of it partially. But not being able to finish it on your home floor? That's super disappointing."
Instead, the Heat overcame the disappointment of 2022, when they lost to the Celtics in Game 7 of the conference finals on their home floor.
"Last year was extremely painful," Spoelstra said. "We thought about it all season long. And if you don't have an opponent like that to bring you to a different level, sometimes you don't get there."