Jets star Jamal Adams claims team went behind his back, sought trade ahead of deadline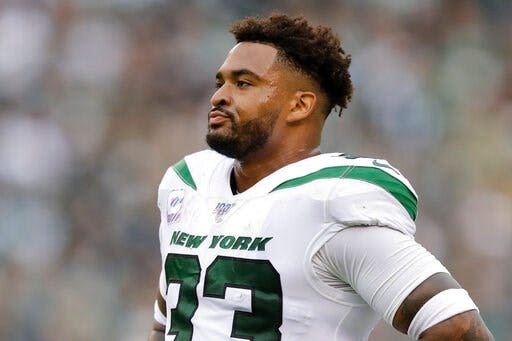 Jets safety Jamal Adams took to Twitter to deny reports that he asked to be traded, and instead said General Manager Joe Douglas went behind his back and shopped him to teams.
Rumors swirled ahead of Tuesday's 4 p.m. deadline that Adams and running back Le'Veon Bell could be dealt, but both stars ended up staying put. The Jets' only move was to deal defensive lineman Leonard Williams to the Giants for two draft picks.
Some reports say the Cowboys made a run at the Texas native, but ultimately came up short.
Shortly after the deadline, Adams posted two tweets, the first of which said, "Any reports of me asking to be traded from the New York Jets are completely false."
He followed it up saying, "At the end of the week last week, I sat down with the GM and Coach Gase and told them I want to be here in New York. I was told yesterday by my agent that the GM then went behind my back and shopped me around to teams, even after I asked him to keep me here! Crazy business."
Minutes after the tweets went out, Douglas appeared on The Michael Kay Show and said he did not shop Adams, but instead simply listened to calls that came in about him.
Adams has quickly become a fan favorite for Jets fans and has shown a devotion to the franchise despite their struggles in his short time there.
The Jets have until Sunday to clear the air, when they face the Dolphins as they seek their second win of 2019.