Jailhouse selfies: Inmates used classroom computers to post pics on social media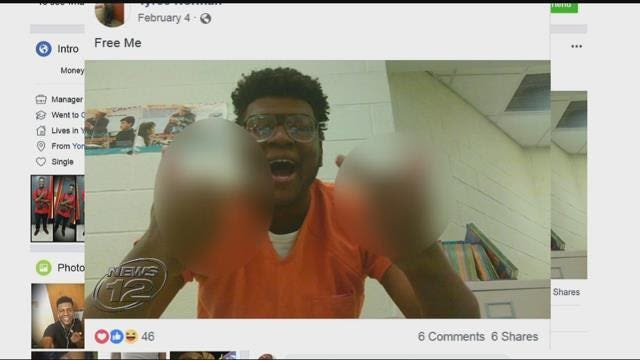 The Westchester County Department of Correction says two inmates at the Westchester County Jail took selfies and posted them on social media.
Tyree Norman, 18, posted a selfie on his Facebook page dated Feb. 4, showing him giving both middle fingers with the caption "Free Me." The Yonkers resident is in jail on an assault charge.   
Inmate Jahir Watts reportedly appeared in another selfie. Watts was one of several people arrested by police last year in a sweep of  Yonkers gang members.
The selfies were taken using a jail classroom computer.
Southern Westchester BOCES runs the educational programs. A spokesman for the jail says a new BOCES teacher allowed the inmates access to social media, which is a violation of the jail and BOCES policies.  
News 12 has been told that the teacher is no longer assigned to the Department of Correction.
BOCES has also disabled its computers' web cameras and internet capability on student-accessible computers.
Three years ago, another selfie taken at the jail made headlines when an actor was apparently able to take a photo with an inmate in his cell.  The incident involved actor Omari Harwick, of the Starz series "Power." It prompted the Department of Correction to launch an investigation and tighten up its policies regarding filming within the jail.

A Department of Correction spokesman wouldn't comment on whether the inmates have been disciplined for their selfie stunt.