'Going down to Yasgur's farm': Nephew recalls family connection to Woodstock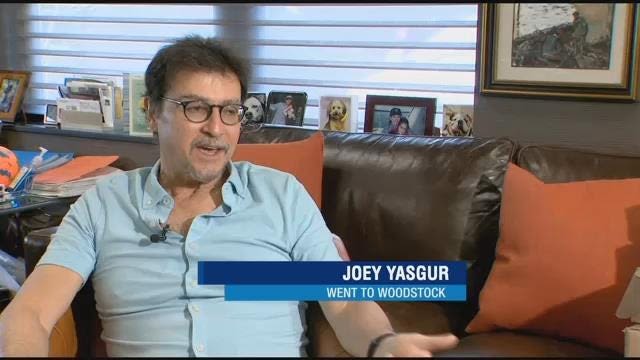 Fifty years ago, a Westchester teen traveled upstate to experience peace, love and music, all from his late uncle's farm.
Joey Yasgur's summer of '69 was highlighted, like many others, by the Woodstock Festival.
"I loved the (Jefferson) Airplane, the (Grateful) Dead and Joe Cocker," says Yasgur, who was then 17. "But I went there because I was a tremendous Who fan and we got far more than that."
That summer magic resurfaces for Yasgur when he thinks back to getting to attend, thanks to his uncle. After all, the festival was held on his Uncle Max's farm.
The lyrics "I'm going down to Yasgur's farm," in the Joni Mitchell song "Woodstock" immortalized his family name in her lyrics forever.
"Everytime I would go to a store, to the bank to cash a check, to get money to buy something and they would see the name," says Yasgur. "So it always became a topic of conversation and people would come up and start asking me questions, 'Oh you were there, what was it like? Oh, you're related, how are you related?'"
Yasgur says the festival didn't necessarily shape him in anyway, he says it was so long ago and it's mostly disconnected from him. But he says it's brought nothing but fond memories.