Cardinal hires judge to review church sex abuse policies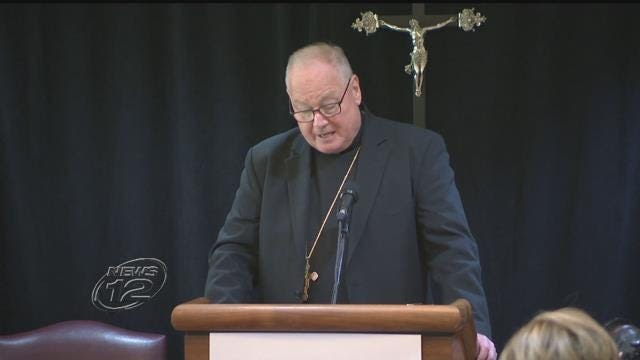 NEW YORK (AP) - Hoping to restore the faith of those disillusioned by how the church has handled sexual abuse allegations, the Roman Catholic Archdiocese of New York appointed a former federal judge Thursday to review its procedures and protocols.
 
Cardinal Timothy Dolan announced the appointment of Barbara Jones, saying many Catholics had told him they were feeling let down by the church's hierarchy after a "summer of hell." The string of bad news has included a Pennsylvania grand jury report detailing widespread sexual abuse and systematic cover-up by church officials in that state, and revelations about sexual abuse allegations against a former archbishop, Theodore McCarrick.
 
The move also comes two weeks after New York's attorney general announced a comprehensive investigation of how the church and its leaders handled abuse allegations across the state. Attorney General Barbara Underwood issued subpoenas to all eight of the state's Roman Catholic dioceses for documents containing information on abuse allegations and how they were investigated and handled.
 
Dolan didn't mention the state investigation during his news conference, instead citing pressure from ordinary Catholics.
 
"If I lost the trust of my people and this community, I don't have a lot left," he said.
 
He told Jones, who appeared alongside him at the news conference, that he was praying her "careful review and hard questions will help my good people renew their trust in the church they love and the leaders they want to believe."
 
The step is the latest the Manhattan-based archdiocese has taken to assure the faithful that it is serious about reform - while simultaneously opposing proposed changes to New York law that would ease certain time limits on civil lawsuits and make it easier for people abused a long time ago to sue the church.
 
Two years ago, the archdiocese announced it was creating an independently administered compensation fund for victims of clergy sex abuse willing to forego lawsuits. It has paid out about $60 million so far.
 
The system has been copied in other dioceses. Earlier this week, four men reached a $27.5 million settlement with the neighboring diocese of Brooklyn over their allegations of being sexually abused as boys by a teacher at a Catholic church.
 
The New York Archdiocese covers Manhattan, the Bronx and Staten Island in New York City, as well as the state counties of Dutchess, Orange, Putnam, Rockland, Sullivan, Ulster and Westchester north of the city. It is the nation's second-largest archdiocese after Los Angeles.
 
Advocates for survivors of abuse said any effort to curb abuse that's commissioned by church authorities is unlikely to produce meaningful results.
 
Anne Barrett Doyle, co-director of the Massachusetts-based BishopAccountability.org, called the New York archdiocese one of the most secretive in the country when it comes to abuse.
 
"If there is a chance of making it transparent and accountable, it will be thanks to the efforts of Attorney General Underwood, not an investigator paid by the cardinal," Doyle said. "Although we don't doubt Ms. Jones' sincerity, we've yet to see one of these internal reviews produce significant systemic change or even damaging revelations."
 
Tim Lennon, president of Survivors Network of those Abused by Priests, said that "no kind of sham investigation by the archbishop will get us one step closer to helping survivors and protecting children."
 
Jones, 71, who has repeatedly served in roles calling for an outside independent monitor or arbiter, said she has already begun an initial review of archdiocese efforts going back over 25 years.
 
"Based upon this review I certainly see a robust infrastructure in place with the archdiocese," she said. "But my job now will be to evaluate the effectiveness of the existing programs and policies in that infrastructure."
 
Jones said her purview would include policies on workplace harassment and abuse of authority involving adults in addition to the sexual abuse of minors.
 
Jones, who left the Manhattan federal bench in 2013, finished her work only weeks ago as a court-appointed special master who helped review millions of documents and files seized by the FBI from President Donald Trump's former personal lawyer, Michael Cohen. Her role was to referee disputes over which documents were protected by attorney-client privilege.
 
Jones was an assistant U.S. attorney in Manhattan and chief assistant to former Manhattan District Attorney Robert M. Morgenthau before she was appointed a judge in 1995 by President Bill Clinton. As a federal prosecutor, she served as chief of the Organized Crime Strike Force Unit.
 
After leaving the bench, she joined the law firm Bracewell, where she has specialized in white collar defense and internal investigations.
 
In her role as an arbitrator, she ruled in 2014 that former Baltimore Ravens running back Ray Rice could play football again after concluding that NFL Commissioner Roger Goodell had made an "abuse of discretion" in suspending Rice indefinitely after video emerged of him beating his wife into unconsciousness in an elevator.
 
She also has served on a panel reviewing the New York City Police Department's discipline policies and was appointed at the University of Michigan to review disciplinary actions against students accused of sexual or gender-based misconduct.
(Copyright 2018 The Associated Press. All rights reserved. This material may not be published, broadcast, rewritten or redistributed.)
9/20/2018 4:22:30 PM (GMT -4:00)