Black mold shuts down Yonkers school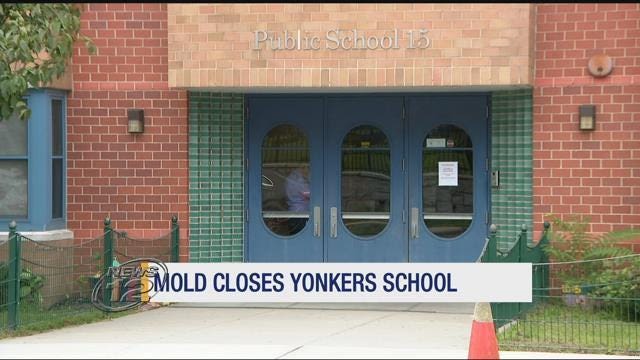 The discovery of black mold has shut down a Yonkers school for the foreseeable future.
Yonkers Public Schools Superintendent Dr. Edwin Quezada revealed to parents Monday that numerous classrooms of Paideia School 15 tested positive for mold, prompting the sudden evacuation of the school.
There were no classes Tuesday as a cleanup was underway. Yonkers school officials say the building will be closed until all tests come back negative.
Quezada says samples were taken on Friday after worrisome spots were seen the day before, including a leaky roof that potentially caused the problem. A consultant with Brewster-based Adelaide Environmental Health, which was tasked with sampling and cleaning the building, says several types of mold were found, including stachybotrys, also known as toxic black mold.
School officials say the likely cause is a leaky roof that has been an issue for the past six months.
Around 600 students from School 15 will be relocated until the building is deemed safe. The current plan is to send students in pre-kindergarten through fourth grade to the Dodson Elementary School and fifth through eighth to a separate wing at Roosevelt Early College High School.
Many parents say they were unhappy with the choice of placement for the older students.
"He's 10 years old; he's in fifth grade. I don't want him in Roosevelt High School," says parent Chris Betetti.
At a news conference Tuesday, the school superintendent also urged parents to check with their local pediatrician if their child was showing any signs of illness.