12 DPW trucks deemed unsafe, in need of repair in Mount Vernon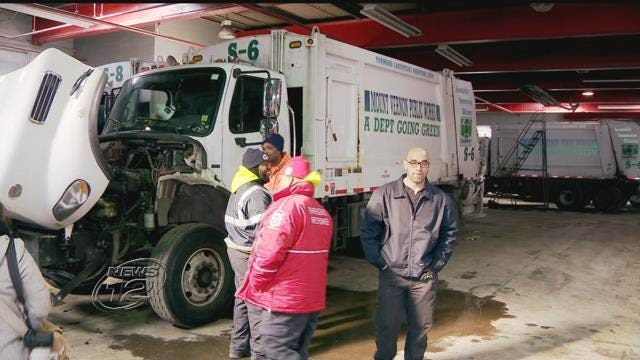 There's more trouble for Mount Vernon's beleaguered Department of Public Works, after the city announced its fleet failed road safety inspections.
The news comes one day after a runaway garbage truck crashed into a home and car on Elm Street, prompting a safety check of all DPW vehicles.
That meant canceled recycling collection on Wednesday, with Thursday's garbage pickup at risk.
The city's Department of Public works has 16 sanitation trucks in its fleet, but 12 were taken off the road after Tuesday's accident.  They were deemed unsafe and in need of repair.
The DPW commissioner says he needs $15,000 worth of repairs to get trucks up and running by the weekend. Some include a new radiator, compactor blade, miscellaneous brake parts and tires.
Mayor Richard Thomas says it's time for the comptroller to pay for it.
A dozen trucks are off the road for failing inspection means a suspension of recycling and allows only for the southside to receive trash pickup on Thursday.
Thomas places blame on Comptroller Deborah Reynolds, who he says stopped processing purchase orders, leaving more than a $250,000 in outstanding bills.
Reynolds says of the vouchers submitted, many were past due and missing vital information.

"He failed to bring bills to the comptroller's office and when he did, it was missing account codes to pay these bills," says Reynolds.

While the battle over bills continues, the city's DPW may soon turn to other municipalities to help pick up the trash.