Yankees put Aaron Judge on injured list with hip strain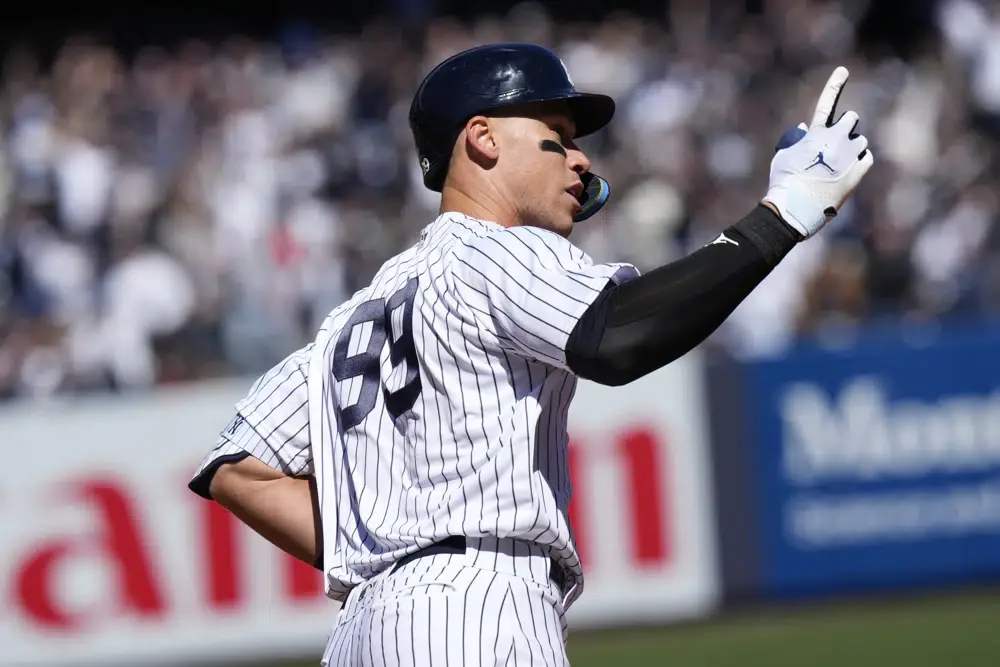 Yankees captain Aaron Judge went on the injured list because of a strained right hip, joining designated hitter Giancarlo Stanton and third baseman Josh Donaldson on the sidelines.
New York announced the move before Monday night's 3-2 loss to Cleveland and made it retroactive to Friday. Judge is eligible to be activated for the May 8 series opener against Oakland.
Judge was hurt last Wednesday when he landed hard while making an awkward headfirst slide at Minnesota on his 31st birthday. He remained in the game and started Thursday at Texas, then left in the fourth inning after striking out twice.
A four-time All-Star and the reigning AL MVP, Judge is batting .261 with six homers and 14 RBIs in his first season after signing a $360 million, nine-year contract.
"Aaron didn't really want to," manager Aaron Boone said. "We probably were going to get to a situation where he might have been in play on the weekend. ... I didn't want this to turn into something that he's playing at 80%, 85% and compromising himself and it turns into something serious."
Judge is on the injured list for the seventh time since making his debut in 2016. He stayed healthy last year and hit an American League-record 62 home runs, batting .311 with 131 RBIs, tying the Mets' Pete Alonso for the major league lead.
Judge has missed 156 games on the injured list since 2016: the final 18 games of 2016 with a strained right oblique, 45 in 2018 with a broken right wrist after he was hit by a pitch from Kansas City's Jakob Junis, 54 in 2019 with a strained left oblique, two stints totaling 30 games in 2020 with a strained right calf and nine games in 2021 on the COVID-19 IL.
New York (15-15) has lost seven of nine, totaling 10 runs during the seven losses.
Outfielder/infielder Franchy Cordero was recalled from Triple-A Scranton/Wilkes-Barre. Cordero traveled from Texas to Worcester, Massachusetts, on Saturday after he was optioned to the RailRiders.
Then, after Jake Bowers got hurt crashing into the left-field wall in the first inning of his Yankees debut on Saturday, Cordero headed back to Texas on Sunday to join the Yankees' taxi squad.