White House: Jill Biden has cancerous lesions removed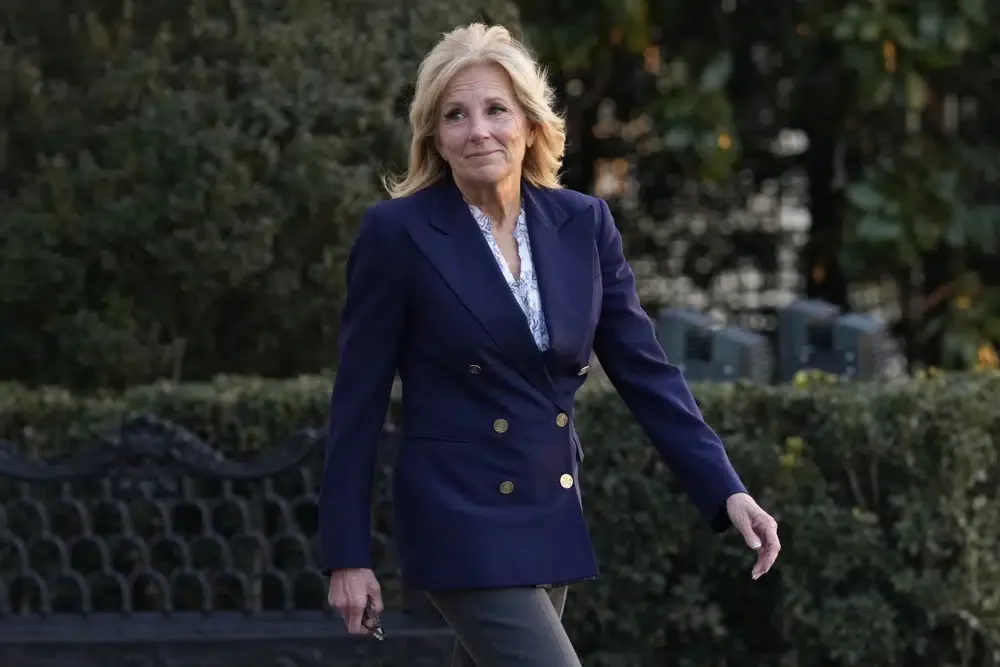 WASHINGTON (AP) — Surgeons removed a cancerous lesion above first lady Jill Biden's right eye and one on her chest, the White House said Wednesday, while a third lesion on her left eyelid was being examined.
Dr. Kevin O'Connor, the physician to President Joe Biden, said examinations showed that the lesion over Jill Biden's right eye and one newly discovered on her chest were both confirmed to be basal cell carcinoma. The lesion on her left eye was "fully excised, with margins, and was sent for standard microscopic examination," according to O'Connor's report.
Basal cell carcinoma is the most curable form of skin cancer. It is a slow-growing cancer that usually is confined to the surface of skin — doctors almost always can remove it all with a shallow incision — and seldom causes serious complications or becomes life-threatening.
The Bidens spent the day at Walter Reed National Military Medical Center in Bethesda, Maryland, while the 71-year-old first lady had the scheduled outpatient procedure known as Mohs surgery to remove and examine the lesions. They had arrived by helicopter from the White House at about 8 a.m.
O'Connor said the first lady was "experiencing some facial swelling and bruising, but is in good spirits and is feeling well." She was expected to return to the White House in the evening.
Earlier, the first lady's office said the surgery was "proceeding well and as expected."
Her office announced a week ago that doctors had discovered the lesion during a recent routine skin cancer screening. She was to have a "common outpatient procedure known as Mohs surgery to remove and definitively examine the tissue," said O'Connor in a Jan. 4 memo that the first lady's office released last week.
That surgery involves cutting away thin layers of skin and examining each layer for signs of cancer. Doctors keep removing layers of skin and examining them until there are no signs of cancer.
Doctors recommended removing the lesion from Jill Biden "in an abundance of caution," O'Connor wrote in the memo.
The Skin Cancer Foundation said the delicate skin around the eyes is especially vulnerable to damage from the sun's ultraviolet rays.
The surgery was arranged for the morning after the Bidens returned from Mexico City, where the president held two days of talks with the leaders of Mexico and Canada.