'We just want our due': Bus drivers strike for better wages, benefits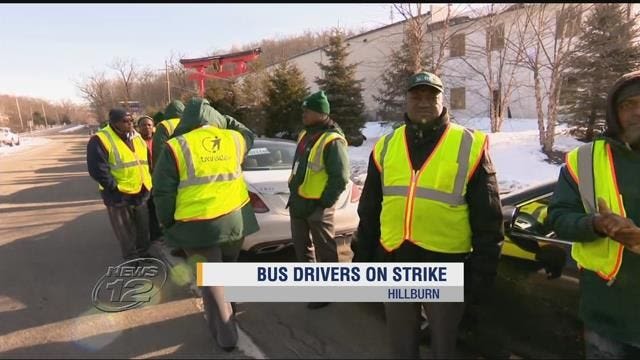 Bus drivers in Rockland County went on strike Friday, calling for a new contract.
Rockland County officials say the bus line experienced significant delays due to the strike that caught a lot of people off guard.
Many riders waited for hours for buses that never came.
Dozens of drivers from Transportation of Rockland or TOR staged what's called a wildcat strike -- when union members walk off the job, but the action is not sanctioned by the union itself.
Back in the fall, Rockland County officials approved a $60.7 million contract for the Transdev company to operate its bus system for the next five years.
The drivers, who belong to the SMART United Transport Union Local 1705, claim once Transdev took over the problems began.
They say they've been trying to negotiate with company officials since November on issues such as affordable health benefits, 401K, a better rate of pay, working conditions and what they claim are unreasonable disciplinary actions.
"We've been doing these runs for the last five years with the former company and for the last 10-15 years with the company before that," said Darrel Smalls of SMART United Transport Union. "We just want our due. That's it."
The drivers say they helped Transdev when the company first took over and they deserve better.
Union reps say they have about 50 drivers striking. They also say they were scheduled to be at the bargaining table with Transdev officials today.
In a statement to News 12, Transdev said they are actively negotiating with Smart United Transport Local 1705 and that they are hopeful for a successful contract and ratification.
Transdev says their contract with the union does not expire until the end of November.