Trump suggests 'rogue killers' murdered journalist Khashoggi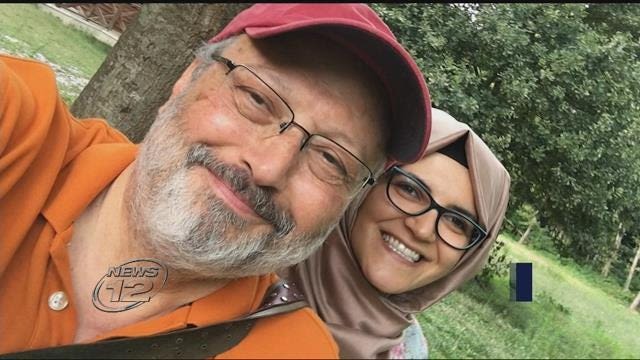 WASHINGTON (AP) - In a comment that could give Saudi officials a route to climb down from outright denials, President Donald Trump suggested Monday that "rogue killers" could be responsible for the disappearance and presumed murder of journalist Jamal Khashoggi, who hasn't been seen since entering the Saudi consulate in Istanbul two weeks ago.
Trump's comment came after a 20-minute phone call with Saudi Arabia's King Salman in which Trump said the king adamantly denied any knowledge of what happened to Khashoggi. Trump announced he'd dispatched Secretary of State Mike Pompeo to the kingdom - and anywhere else necessary - to get to the bottom of the apparent demise of Khashoggi, a Saudi who had been living and working in the United States.
"The king firmly denied any knowledge of it," Trump told reporters as he left the White House for a trip to survey hurricane damage in Florida and in Georgia. Trump said he didn't "want to get into (Salman's) mind," but told reporters: "it sounded to me like maybe these could have been rogue killers. I mean, who knows? We're going to try getting to the bottom of it very soon, but his was a flat denial."
The comments marked a break from the Trump administration's strenuous refusal to speculate over what happened to Khashoggi and came as the U.S. president is under growing pressure to take action on the case of the Saudi writer, who was a contributor to The Washington Post and wrote columns critical of Saudi Crown Prince Mohammed bin Salman. Turkish officials say they believe Saudi agents killed and dismembered Khashoggi and say Turkey has audio and video recordings of it. The kingdom has called the allegations of foul play "baseless" but has offered no evidence the writer left the consulate.
The State Department has urged a thorough investigation and called on Saudi Arabia to be transparent about the results - advice broadly tracking messages from allies in Europe. Germany, Britain and France issued a joint statement over the weekend expressing "grave concern" and calling for a credible investigation to ensure those responsible for the disappearance "are held to account."
Trump quoted the King on Monday as saying that neither he nor his son, the crown prince, had any information about what had happened to Khashoggi.
The crown prince, ambitious, aggressive and just 33 in a kingdom long ruled by aging monarchs, has considerable weight in Saudi government actions. He and Trump's son-in-law and senior adviser, Jared Kushner, have forged close ties.
In Istanbul, meanwhile, investigators entered the consulate for their own investigation. The members arrived by unmarked police cars but said nothing to journalists waiting outside as they entered the building.
Trump tweeted early Monday that Salman denied any knowledge of "whatever may have happened 'to our Saudi Arabian citizen.'"
He made that point again and again as he left the White House, telling reporters, "All I can do is report what he told me."
"His denial to me could not have been stronger," Trump said, echoing language he has used to describe Russian President Vladimir Putin's denials of meddling in the 2016 election that sent Trump to the White House. U.S. intelligence officials have reported they are certain the interference took place in an effort to hurt Hillary Clinton's campaign.
Trump last week vowed to uncover the truth about what happened to Khashoggi and promised "severe punishment" for those responsible.
But he has said repeatedly that he does not want to halt a proposed $110 billion arms sale to Saudi Arabia - as some in Congress have said he should - because it would harm the U.S. economically..
Saudi Arabia has pledged to retaliate economically for any U.S. punitive action.
Trump said he'd made clear the stakes.
"The world is watching, the world is talking. This is very important to get to the bottom of it," Trump said. "I think he understands that very well."
Treasury Secretary Steven Mnuchin still plans to attend a previously scheduled Saudi conference this week to address terrorist financing, but those plans could change as the investigation progresses, said White House economic adviser Larry Kudlow.
Sens. Marco Rubio and Jeff Flake, members of the Foreign Relations Committee, have said Congress is prepared to move quickly and firmly if Trump fails to adequately respond to Khashoggi's disappearance. Rubio said Sunday that U.S.-Saudi relations may need to be "completely revised."
"There's not enough money in the world for us to buy back our credibility on human rights if we do not move forward and take swift action," Rubio said on CBS' "Face the Nation."
More than 20 Republican and Democratic senators instructed Trump last week to order an investigation into Khashoggi's disappearance under legislation that authorizes sanctions for perpetrators of extrajudicial killings, torture or other gross human rights violations.
Khashoggi had been living in self-exile in Virginia for the past year.