Town hall meeting held to address alleged racism in Mamaroneck School District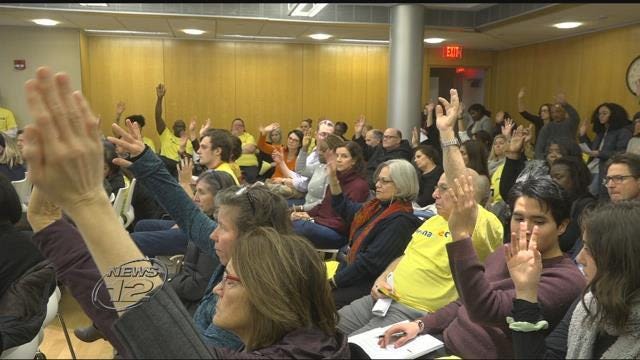 A town hall meeting was held Monday for parents and alumni who say they've experienced racism and bullying in the Mamaroneck School District.
The meeting was organized by David Martin, who says his 10-year-old daughter and her two friends were called a racial slur inside Hommacks Middle School by a white student. Martin says the student looked up the definition on his phone and demanded they read it out loud.

He says after 30 days, he was finally able to meet with the principal about the issue, who thought the issue had already been resolved.

Martin says while meeting with the board about the issue in early February, the board president and vice president were seen standing and tried to initiate a walk out while he was still speaking. He says the school initially only met with the parents of the white student and did not offer any counseling or emotional support for the others.

The district then responded to Martin about the issue saying in part, "It should not have taken an email from two of the parents to prompt initial action on our part, which took place two days later. We apologize for not acting more swiftly, as we should all be aware of how a lack of timely response can be understood as being indifferent to the very real issue that took place."

Martin says parents and alumni came forward with similar complaints, prompting him to schedule the town hall meeting.

He says the people who attended the meeting will all join together to create a task force that will address the issues of racism and bullying that have been going on for far too long.