Teen who died in Pearl River crash laid to rest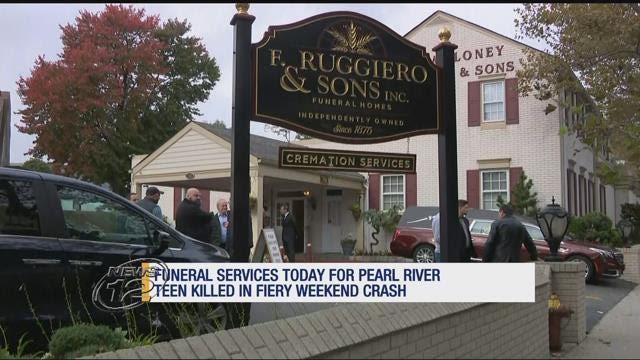 Friends and family said a final farewell to a Pearl River teen killed in a horrific car crash last weekend.
Funeral services for 17-year-old Altin Nezaj were held at the F. Ruggiero & Sons Funeral Home in Yonkers Wednesday morning.
A wake took place at the funeral home on Tuesday and dozens came out to remember the Pearl River High School football and wrestling star.
Family members tell News 12 they're grateful for the strong show of support as they mourn a devastating loss.
"Heavy for us and the family to go through hard times that makes us believe more in God and keeps us closer with friends and family and kiss our kids every night because you may not see tomorrow," says Altin's uncle Bujar Verzivolli.
In addition to the emotional support the family is receiving, classmates of Altin started a GoFundMe which has raised $30,000 in just 24 hours.
Nezaj and two other teenagers were involved in a crash on Route 304 in Pearl River shortly before 3:30 p.m. on Sunday.
Their Porsche SUV collided with a Volkswagen Jetta, and the Porsche plunged off the overpass landing upside down on the train tracks below and burst into flames.
Altin and another passenger, 15-year-old Saniha Cekic of Brooklyn, were both killed. Hundreds of loved ones also gathered Tuesday to say their final goodbyes to Cekic in Astoria.
The driver, 17-year-old Aisha Radoncic, also a student at Pearl River High School, remains hospitalized and is listed in good condition.
The driver of the Jetta was not injured and police are still investigating the cause of the crash. They do not believe drugs or alcohol were a factor.
The tributes continue for the teen this weekend. On Saturday, Nezaj's high school will honor him, and the entire community will be wearing his football jersey's number of 71.