Staff Picks: Salt & Sweat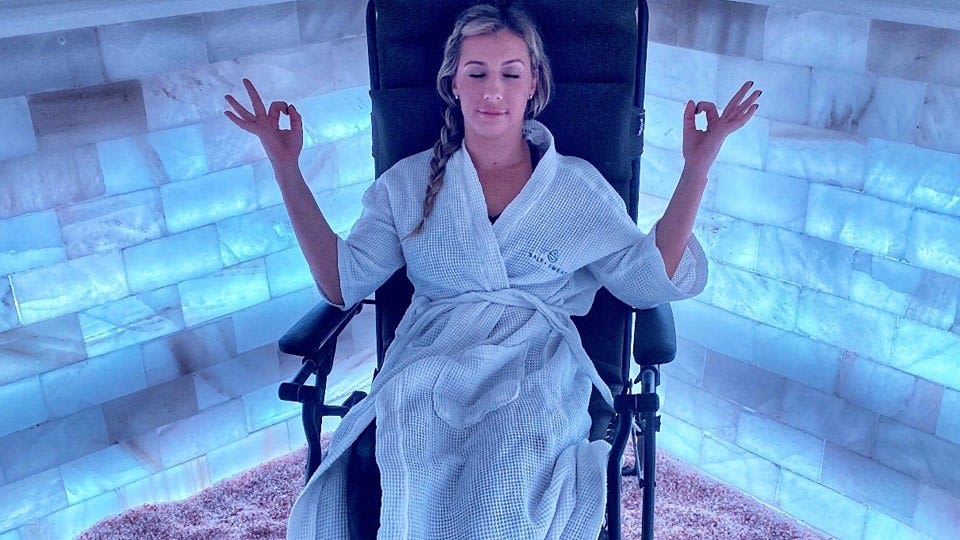 By Michelle Romano
Holistic detox therapies are becoming popular wellness trends from breathing in a room full of Himalayan rock salt to sweating out your toxins in an infrared body wrap. All which are said to help boost your mood and give your skin a healthy glow. I wanted to give it a try, so I spent an afternoon at
Salt & Sweat Wellness Lounge
in Rye Brook.
Salt & Sweat is run by husband and wife Jennifer & Mike Gunzer. The services range from sitting in an infrared sauna, massages, relaxing in a salt room and the latest in skin therapies like Cryokin.

I started my morning by spending 30 minutes with a session of halotherapy, also called salt therapy which is supposed to give your body an upper respiratory detox. It involves sitting in a room (or referred to as salt cave) and inhaling salty air that's being pumped in by a halogenerator. It's a natural therapy, using micro particles of salt to promote better breathing, healthier skin, and improving sleep and improve overall wellness.

But isn't salt bad for you? Nope - this is Himalayan pink salt. "Unlike table salt, which is stripped of most of its natural minerals, pink salt is rich in minerals and salt contains more calcium, potassium, magnesium and iron," Jennifer Gunzer says.

One of the first things I noticed was how beautiful the salt rooms were. The floor was made of loose Himalayan salt rocks, where you can bury your feet as if it was sand (don't worry the salt is antibacterial and a natural cleaner) and the bottom of the walls were stacked with salt bricks. This was a place I was able to sit on the floor, play with the salt through my fingers. I even found myself stretching and practicing yoga poses for moments of meditation. If yoga and stretching isn't your thing, there are chairs allowing you to truly sit back and relax. Gunzer says halotherapy may not be appropriate for everyone, but it is for babies and pregnant woman. One single session costs $35. And if you want to bring your experience and benefits to the next level, you can book a private massage in the room.
Speaking of massages, that was next on my list. I opted for a deep tissue massage which was given by masseuse Clever Grefa- Licuy, a fifth generation Shamon. Jennifer & Mike weren't kidding when they said he was a natural healer. During the message, I felt my arm go numb from releasing so much pressure and tension I had in my upper back and neck. Grefa- Licuy has the ability to "read" your body and was using traditions of shamanic healing from what he learned from his family in Amazon rain forest of Ecuador, who by the way still live there, and he visits often.
After my massage I was on my way to try an infrared body wrap. This body wrap heats up to 130 degrees and claims to have the top benefits "skin rejuvenation, pain relief, cellulite reduction, weight loss, relaxation, and detoxification," and the wrap can help you burn up to 1,000 calories (depending on each individual). And yes, you do all of this while lying down, listening to music, relaxed or watching Netflix.

For 50 minutes, I was wrapped up in sweat suit - sweat pants and a giant white bag that made me look like a marshmallow. The sweat and heat helps cleanse the pores of toxins through perspiration. I went in for the "Get Glowing" upgrade, a body lotion, to enhance my results. The first 20 minutes I was feeling relaxed and I felt zen. But once we hit 30 minutes, my body temperature rose and my heart rate was elevated. I felt hot, really hot, but not too uncomfortable. And just in time, Jennifer came to give me a cold lavender scented towel on my forehead. I kept reaching for glasses of water, as staying hydrated is extremely important. When the session was over and you take off your marshmallow suit you see how much you sweat! Single session of the infrared body wrap costs $50.
All in all – I enjoyed my time at
Salt & Sweat
– leaving feeling relaxed and rejuvenated. Have you ever tried any of these therapies?