Residents protest closing of Montefiore Mount Vernon Hospital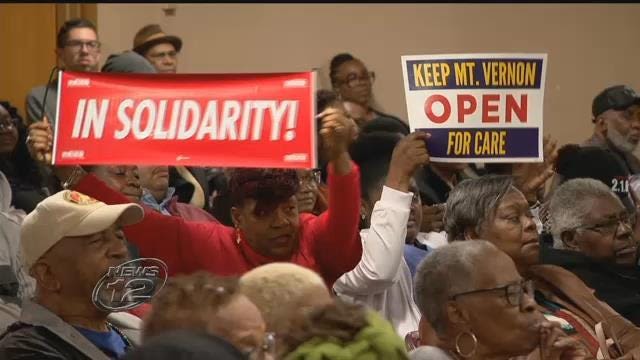 Residents packed a meeting in Mount Vernon to protest a plan to close the city's only hospital.
Montefiore Mount Vernon Hospital is being replaced with an ambulatory care center and a hospital-based off-campus emergency department that does not include inpatient care.
The meeting was the first time people had the chance to hear directly from Montefiore officials since the announcement was made earlier this month that the hospital, which has been in the city for 129 years, will be closing.
There was a huge turnout at the Graham Elementary School Tuesday night. Many are unhappy about the plan to close the 121-bed hospital and replace it with a new $41 million health care center. The new facility would be built on Sanford Boulevard, about two blocks away from the hospital.
The ambulatory care center and hospital-based off-campus emergency department would include many services from pediatrics and women's health to X-rays, and CT scans but it will not have inpatient care.
Those who require inpatient care or a hospital stay would be transferred to one of the four hospitals within 4 miles.
Montefiore officials say the demand for inpatient care at Mount Vernon hospital just isn't there saying less than 50 percent of the hospital's beds are in use on a daily basis. "People are still choosing not to get their care at Montefiore Mount Vernon, and right now, about one in every five Mount Vernon residents chooses to have their elective care at Mount Vernon."
Residents say they should still have access to the hospital in case of an emergency.
Montefiore officials say the hospital will continue to operate until the new site is opened at the end of 2020, and they haven't decided what will happen to the current hospital.