Michael Lorenzen throws no-hitter in home debut with the Phillies, 14th in franchise history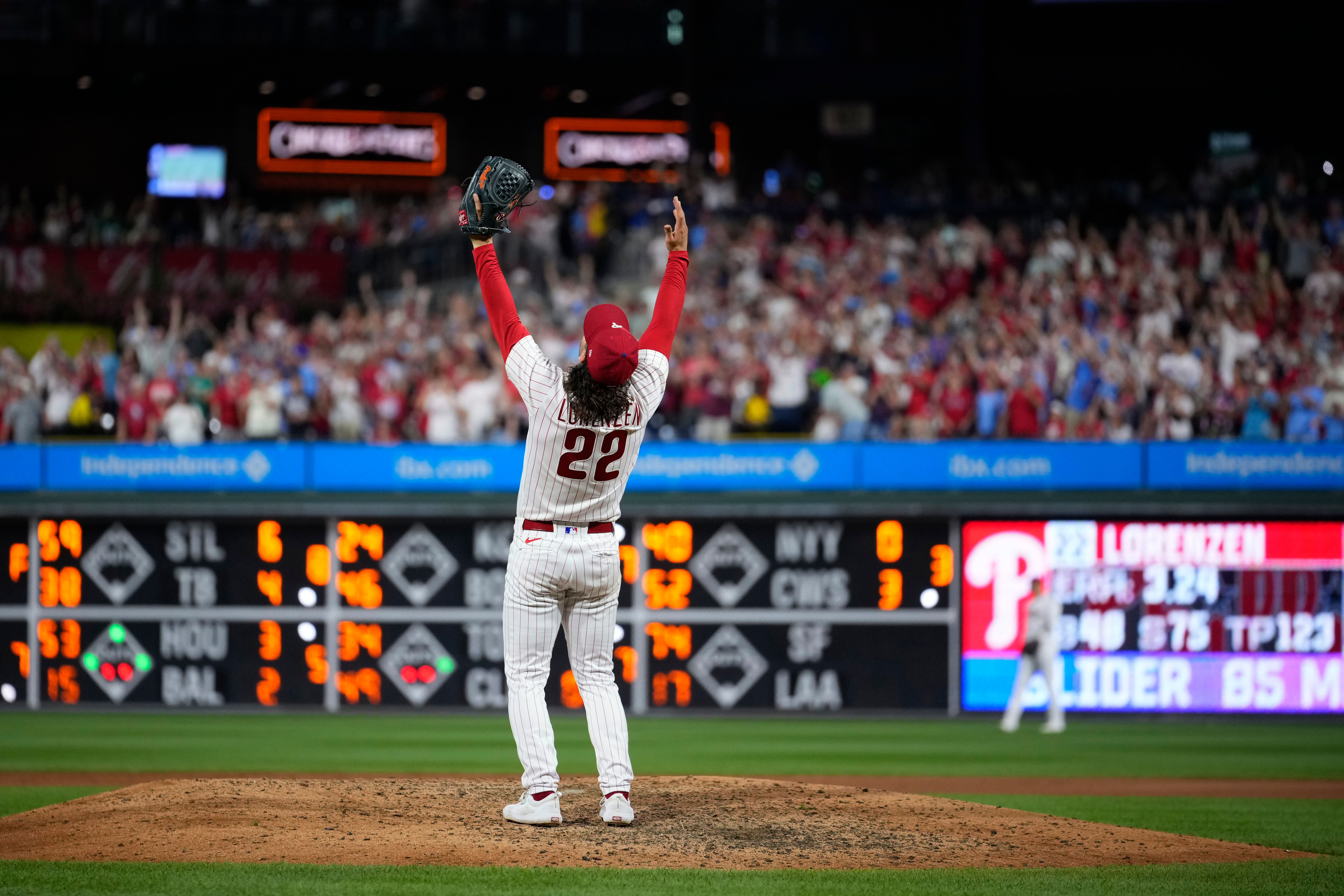 Michael Lorenzen walked to the mound to start the ninth inning — of just his second start with the Phillies, his first in Philadelphia — engrossed in the passion of fans roaring for him to complete a no-hitter, and considered the scene the coolest moment of his baseball career.
"Just walking out of the dugout, hearing the fans go wild, it gave me the chills," Lorenzen said. "It gave that boost of energy that I needed, for sure."
Boy, did it get wild in Philly just three outs later.
Lorenzen threw the 14th no-hitter in Phillies history, a dazzling performance that led Philadelphia to a 7-0 win over the Washington Nationals on Wednesday night. He became the fifth pitcher in major league history, and only the second since 1900, to throw a no-hitter in his home debut with a new team.
"Unbelievable, bro," manager Rob Thomson said during a clubhouse toast. "Welcome to Philadelphia, buddy."
The Phillies cheered for one of their newest teammates, who has settled in to near-perfection since he was acquired from Detroit at the trade deadline. Kyle Schwarber, Rhys Hoskins and other Phillies clapped, laughed and yelled "great trade" as team president Dave Dombrowski walked through the clubhouse shaking hands.
The 31-year-old Lorenzen (7-7) struck out five, walked four and improved to 2-0 since he was acquired from the Tigers for a minor leaguer.
Lorenzen retired Lane Thomas on a grounder to open the ninth and struck out Joey Meneses looking.
The crowd of 30,406 erupted when Lorenzen induced a popup from Dominic Smith on his career-high 124th pitch to end his first career complete game in 2 hours, 9 minutes. Lorenzen stood on the mound and raised his arms in triumph before running into the waiting arms of catcher J.T. Realmuto. Lorenzen then flipped his cap backward and was mobbed by his teammates in a rowdy celebration near the plate.
"You've just got to live in the strike zone and hope they continue to hit balls right at guys," he said. "That was kind of the story of the night. If you give up a base hit, you give up a base hit. So what?"
Lorenzen's mother, Cheryl, and wife, Cassi, wept in the stands during the final out, with Cassi holding their 9-month-old-daughter, June. Lorenzen later held his baby aloft on the field and smooched her on the cheek.
His teammates lingered near the dugout and continued the line of hugs and high-fives — a sight not unlike the ones last October at Citizens Bank Park during Philadelphia's run to the World Series.
Lorenzen proved he can play a key role in leading the Phillies back to the postseason.
The Phillies acquired the right-hander to stabilize their rotation as the defending National League champions battled the San Francisco Giants for the top wild-card spot.
Lorenzen pushed his pitch count to the point where it was questionable if Thomson would let him finish the game. But he kept the ball and became the first Phillies pitcher to throw a no-hitter since Cole Hamels on July 25, 2015 against the Cubs. Hamels retired last week.
Thomson said he talked to Lorenzen after the seventh and told the righty he had only about 20 pitches left.
"You better get quick outs," Thomson told him.
After a couple of labor-intensive innings early, Lorenzen settled down and made quick work of the Nationals.
"Honestly I was upset at myself for the first couple of innings, they were long innings, walking guys. And I knew I was just ruining my chances to go deep in this game," Lorenzen said. "Just trying to buy some more innings and (Thomson) gave them to me. So hats off to him."
Washington was no-hit for the first time in its 19 seasons since the franchise moved from Montreal. The Expos were last no-hit when the Yankees' David Cone threw a perfect game on July 18, 1999.
The Phillies hadn't even thrown a complete game this season. Their most recent was last Aug. 25 when Aaron Nola blanked Cincinnati.
The franchise's 14 no-hitters include Roy Halladay's against Cincinnati in the NL Division Series on Oct. 6, 2010.
The no-hitter was the fourth in the majors this season. Houston's Framber Valdez threw one against Cleveland on Aug. 1. New York Yankees right-hander Domingo Germán pitched a perfect game at Oakland on June 28, and Matt Manning, Alex Lange and Jason Foley of Detroit threw a combined no-no against Toronto on July 8.
Lorenzen, an All-Star this season for the Tigers, threw a season-high eight innings of two-run ball in his Phillies debut last week.
Lorenzen already has one big souvenir from the no-no: Philadelphia's grounds crew dug up the rubber and presented it to the pitcher in the clubhouse. And the Baseball Hall of Fame will be accepting another: Lorenzen's white Vans spikes.
The Nationals simply tipped their caps.
"I thought he threw pitches around the zone, not really in the middle of the zone, so he made it difficult for us," Thomas said. "I thought he made good pitches when he needed to. Especially when his pitch count got high, I thought he threw some good pitches to get some soft contact."
Lorenzen improved to 38-36 in a career that began in 2015 with the Reds. He's never won more than eight games in a season but figures to top that, and the Phillies are expecting many more.
"This game has punched me in the face so many times," he said. "I've just got to rely on the work that I put in and trust and hope it's going to pay off at some point."
With a big moment in Philly, it did.