Bill would legalize driver's licenses for undocumented immigrants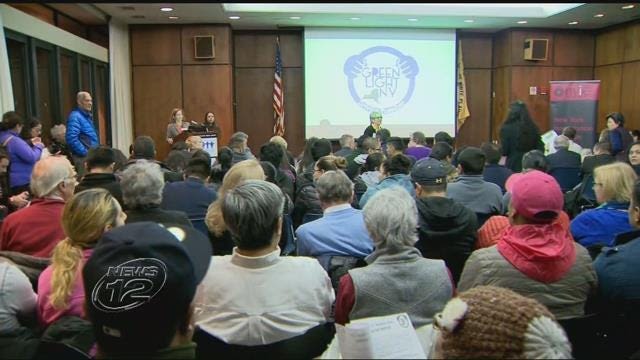 A proposed bill that would allow undocumented immigrants to get a driver's license in New York is getting mixed reaction from people across the Hudson Valley.
Proponents of the bill packed into White Plains Library Monday night to ensure their message was heard. They say giving undocumented immigrants driver's licenses would make roads safer, help ensure that everyone knows the traffic laws and make sure everyone passes a driving test before getting behind the wheel. A license would also allow undocumented people to properly register as well as inspect and insure their vehicles.
Advocates say denying undocumented immigrants licenses doesn't prevent them from driving, it just prevents them from staying safe. "If you're going to drive in New York, you need to have a license that shows you live here and you passed the test," says Sen. Shelley Mayer (D-Yonkers) . "I'd rather have that person when I get into an accident than someone who has not taken a driver's test, does not have insurance, who knows about their car and I can follow up with and the cops can follow up with."
Mayer is co-sponsor of the bill, which is slated to go before the state legislature next year.
The bill has drawn a lot of criticism from opponents who argue that this rewards lawbreakers and there are national security concerns. Some critics say lawmakers need to focus on the bigger immigration problem. "You know you'd rather not have undocumented immigrants driving on the streets...you'd rather have them processed and the place to solve it is probably not at the driver's license bureaus, but when they come in to begin with," says Greg Holmgren, of Manhattan.
Supporters say the bill will prevent undocumented immigrants from breaking the law further and keep drivers from paying the price "People are going to resort to driving anyway. They have to go work, they have to feed their families," says Janet Rolon, of Ossining.