Father alleges popular Flyers mascot Gritty punched his son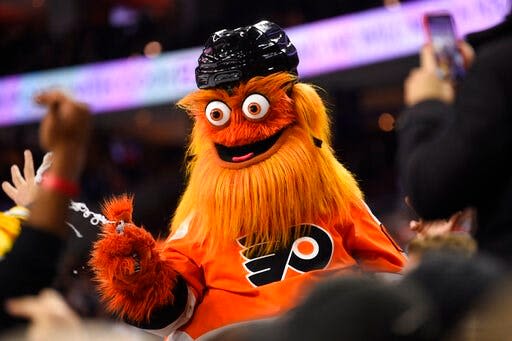 Police are investigating whether popular Philadelphia Flyers mascot Gritty punched a teenage fan in the back at a season ticket holder event,
the Philadelphia Inquirer reports.
According to the report, Chris Greenwell and his 13-year-old son attended the event and snapped a photo with one the most popular mascots in all of sports. He says his son "playfully" patted Gritty on the top of the head, and as his son walked away, Gritty punched him "as hard as he could."
The company that owns the franchise says there was no footage of the alleged incident, and that they could not confirm Greenwell's account following an investigation.
Greenwell told the Inquirer that his son suffered from mild pain and a back bruise
After some back and forth, the team and the Greenwells couldn't come to an agreement, so the family reported the incident to police. Police told the Inquirer that the investigation is "active and ongoing."
"I know it was not correct for my son to harmlessly tap him on his head, but for a Flyers employee to get to throw a full punch at someone with his back turned and hurt a 13 year old boy is assault, unprofessional and unacceptable for your organization," Greenwell said in an email sent to the company that owns the Flyers.
Following the interaction, Greenwell says he will be getting rid of his season tickets after 22 years. He says he has not hired a lawyer and just wants an apology or something "special" for his son in return.