Excessive heat warning in effect Friday with temps to feel around 100-110 degrees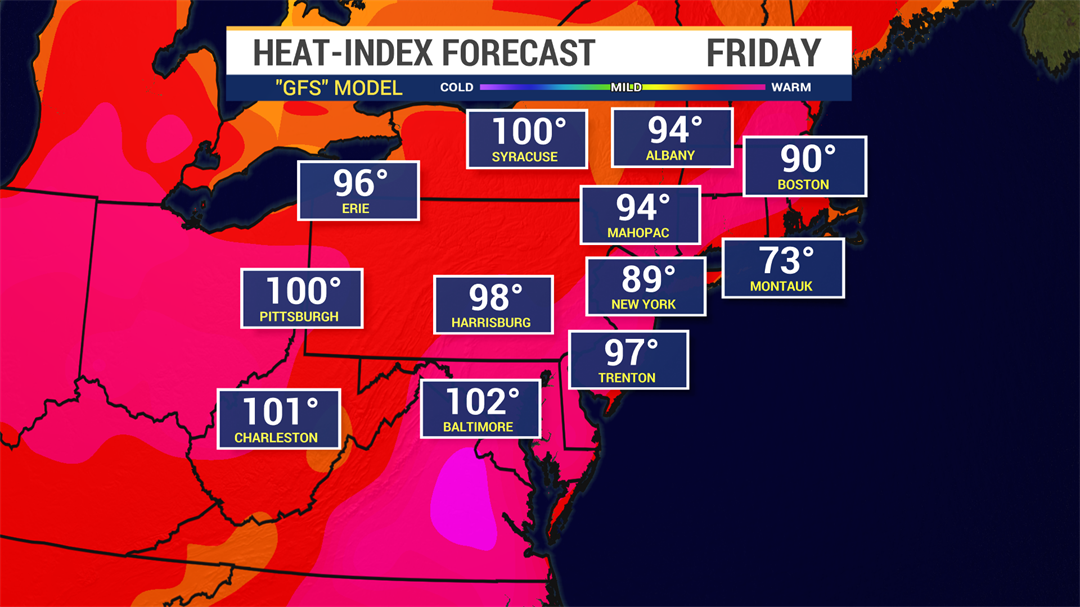 The heat and humidity that has gripped the Hudson Valley is only going to get worse as a heat wave is expected to bring possibly record highs to the area this weekend.
On Friday, the very hot conditions set back in. An excessive heat warning has been set for Friday afternoon through Saturday at 10 p.m. with highs in the mid-to-upper 90s. With the humidity, it will feel like it is 100 to 110 degrees. Experts are urging people to limit outdoor activity and stay hydrated and in air conditioning as best you can.
Sunday will also be hazy, hot and humid with a chance of a late-day thunderstorm. The high will be 96 degrees.
Monday will see just a slight drop in temperatures with highs around 87 degrees.
Con Edison says it is mobilizing 4,000 electric operations personnel and support staff to respond to the extreme heat wave. The company is reminding customers to save energy this weekend by:
Turn off air conditioners, lights and other appliances when not at home and use a timer to turn on your air conditioner about a half-hour before arriving home;
Make sure air conditioner filters are clean so the units will run at peak efficiency;
Set thermostats to the highest comfortable temperature. Each degree lower increases cooling costs by 6 percent;
If you have a room air-conditioning unit, close off the rooms not being used; if you have central air, block the vents in un-used or vacant rooms;
To reduce heat and moisture in your apartment or home, run appliances such as ovens, washing machines, dryers and dishwashers in the early morning or late at night when it's generally cooler outside. Use a microwave to cook, or barbecue outside, if possible;
Keep shades, blinds and curtains closed. About 40 percent of unwanted heat comes through windows. Simply drawing blinds and curtains, which act as a layer of insulation, can reduce heat in your apartment or home;
Use fans instead of air conditioners, but be sure to leave windows open for ventilation. Fans use as little as one-tenth the energy as air conditioners.
Stay with News 12 for the latest weather information.