Eagles' Super Bowl-bound Hurts still trying to quiet haters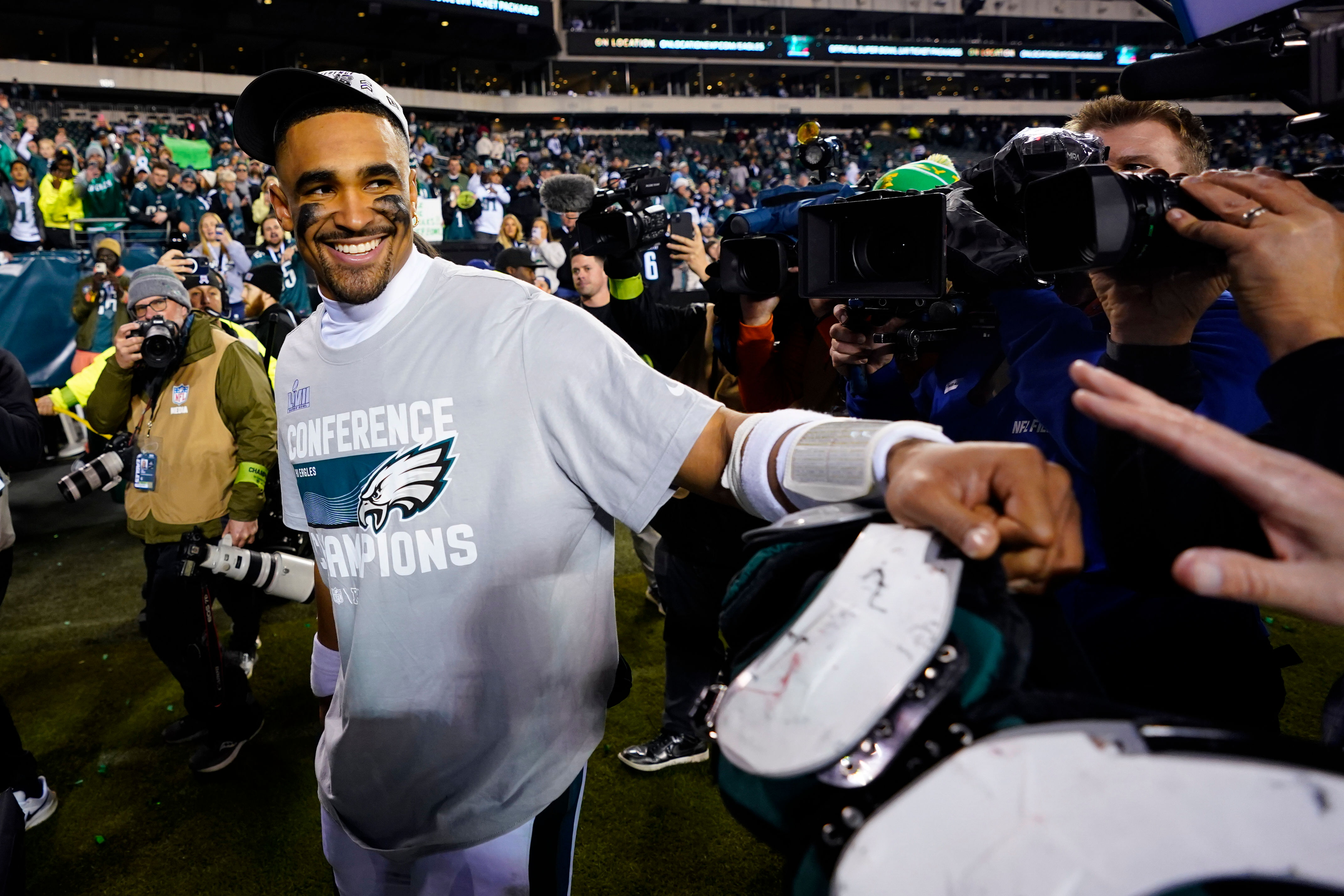 Nick Sirianni and his kids made snow angels in the confetti on the Linc turf. Jalen Hurts puffed on a cigar alone at his locker and scrolled through the congratulatory texts on his phone.
Out in the Philly streets, delirious fans refused to let grease slow them down as they slithered toward the top of street poles.
Everyone celebrates a Super Bowl trip in their own way.
Historically, those don't come around very often in Philly. This makes two Super Bowls in six years for the franchise, which represents half of its career total. Owner Jeffrey Lurie has hired three straight coaches who've made it to the championship — Andy Reid, Doug Pederson and now Sirianni.
Even better for the Eagles, they drafted the right quarterback.
Hurts seemingly has it all. He tied a team record for total touchdowns. Was named an MVP finalist. Went 16-1 as a starter, including the playoffs. Has been heavily touted as the type of quarterback that can carry a franchise for a decade.
Yet it's not enough.
Hurts made sure to call out his perceived haters in the moments after he scored a rushing touchdown and led the Eagles to a 31-7 win over the San Francisco 49ers in Sunday's NFC title game.
Who knew? Hurts was a 2023 version of Ben Simmons that no one in Philly wanted.
"My first year here (people) probably didn't even want to draft me here," Hurts said. "It was probably one of those things. But it always handles itself."
Let's look at the facts: Hurts was drafted in 2020 in the second round -- after a stellar collegiate career in which he was a Heisman Trophy runner-up -- in large part to challenge incumbent Carson Wentz. Hurts was named the starter under former coach Pederson in Week 14 of his rookie year and has never really looked back. He rebounded from a 2-5 start and led the Eagles to the playoffs in Sirianni's first season. In his second season as a starter, the Eagles have gone wire-to-wire as the best team in the NFC.
So who didn't want Hurts here? He wouldn't elaborate.
"It was a big surprise to many," Hurts said cryptically. "My favorite (Bible) verse, I went through a lot of stuff in college and it kind of stuck with me, John 13:7: 'You may not know now but later you'll understand.' Hopefully people understand."
There are clues in Hurts' biography that might explain what he meant. At Alabama, he was benched in the national title game for Tua Tagovailoa and ultimately transferred to Oklahoma for his senior season. He wasn't considered a can't-miss NFL prospect and heading into this season, there were questions about whether he could thrive as a pocket passer.
Hurts appeared to answer those questions. But he likely hasn't forgotten them.
Eagles fans are sure to excuse whatever Hurts is working through as long as he leads them to their second Super Bowl championship in six years.
The Eagles have made three of their four Super Bowl appearances since 2000 and there's a familiar mustache on the opposing sideline in Reid. Reid is on the short list — if not No. 1 — of the greatest coaches in Eagles history. He turned the Eagles into winners in his second season and won more games than any coach in franchise history, but was 1-4 in NFC championship games. He was fired after 14 seasons and immediately landed in Kansas City, where he has won a Super Bowl and lost another.
Hurts vs. Patrick Mahomes is a QB matchup for the ages. And the first between two Black quarterbacks in Super Bowl history.
Should Hurts win this one, maybe people will understand.
WHAT'S WORKING
Hurts had a modest game by his standards. He was 15-of-25 passing for 121 yards and ran for 39. That opened the door for the running game to take control. Miles Sanders and Kenneth Gainwell didn't put up monster numbers, but they chewed up pivotal yards on scoring drives and helped the Eagles find the end zone. Sanders scored two touchdowns. Boston Scott scored one.
The Eagles love to use their backs at the goal line and the trio's propensity to find the end zone could derail the Chiefs.
WHAT'S NOT
The Eagles did their job battering San Francisco QBs Brock Purdy and Josh Johnson, but it's not like the offense dazzled outside of the running backs inside the 20. Gainwell led the team with 48 yards rushing and DeVonta Smith led with 36 yards receiving. Those players have put up similar numbers in a quarter this season. Without more explosive plays, the Eagles could be doomed in Glendale, Arizona.
STOCK UP
The hometown(-ish) kid makes good. Haason Reddick forced a fumble and injured Purdy on San Francisco's first drive of the game. He also recovered a fumble and had two sacks. Reddick now has 3 1/2 sacks this postseason, which are the most by an Eagle during a single playoff run. Reddick has 19 1/2 sacks in 19 games this season (including playoffs). Who wants to wager that the New Jersey native and former Temple standout can get a few more against the gimpy Mahomes?
STOCK DOWN
The Eagles might want to punt on using Brett Kern in the Super Bowl. Kern was a disaster again against the 49ers, with a shanked punt and a line drive into the end zone. He tried to argue the shank hit a TV camera wire but that argument went nowhere. Punter Arryn Siposs has been sidelined since mid-December with an ankle injury and remains hopeful he could return for the Super Bowl.
KEY NUMBER
4 -- The Eagles are the fourth team to reach three Super Bowls since 2004, joining New England (seven), Pittsburgh (three) and Seattle (three). The Eagles are also the fourth franchise to appear in multiple Super Bowls since 2017, joining Kansas City (three), the Los Angeles Rams (two) and New England (two) in that span. The Eagles are also in their fourth Super Bowl in franchise history.
NEXT STEPS
Prepare to face the Chiefs.