AP mock NFL draft: CJ Stroud goes to the Panthers first overall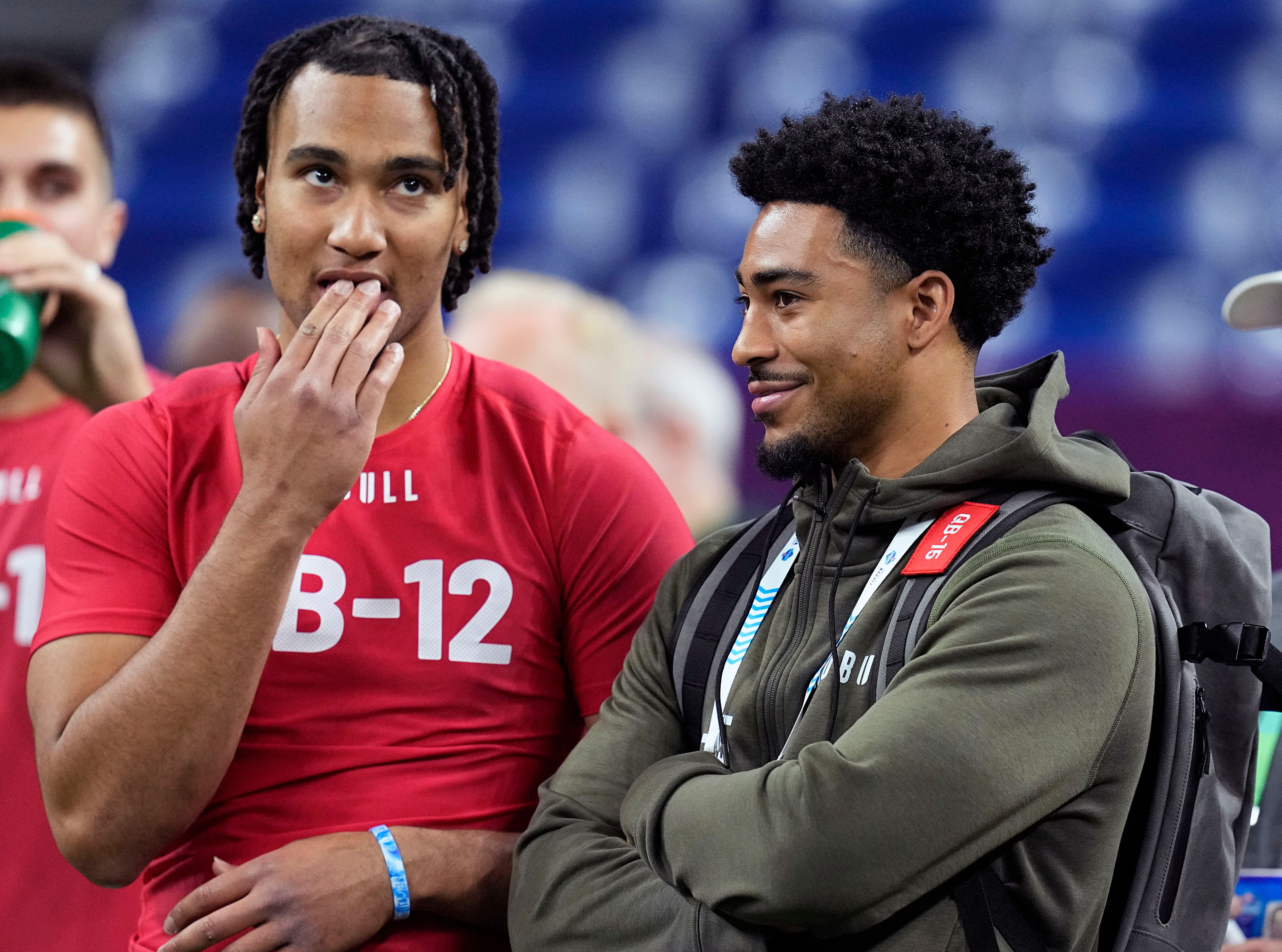 The Carolina Panthers have been on the clock since making a blockbuster trade last month to acquire the No. 1 overall pick in the NFL draft and get their choice of potential franchise quarterbacks.
There's still no general consensus on which QB will go first.
Bryce Young or C.J. Stroud? The Panthers themselves are still trying to decide and they're doing their due diligence on Anthony Richardson and Will Levis in the process.
The Panthers traded four picks, including No. 9 overall and a first-rounder next year, along with wide receiver DJ Moore to give new coach Frank Reich a quarterback to build around.
The first edition of the AP's 2023 mock draft says it'll be Stroud.
1. Carolina Panthers (from Chicago): C.J. STROUD, QUARTERBACK, OHIO STATE
Stroud's size — 6-foot-3, 214 pounds — gives him an edge over Young — 5-foot-10, 204. Stroud has a strong, accurate arm and possesses the leadership ability and other intangibles that Reich values.
2. Houston Texans: BRYCE YOUNG, QUARTERBACK, ALABAMA
Young, the 2021 Heisman Trophy winner, becomes the face of the Texans and allows Houston to move past Deshaun Watson. His size is below standard but it was never an issue when Young played at a high level at Alabama. He can make every throw, has strong pocket presence and is a dynamic playmaker.
3. Arizona Cardinals: WILL ANDERSON, EDGE, ALABAMA
New coach Jonathan Gannon benefited from having a dominant defensive line last season as a defensive coordinator for the NFC champion Philadelphia Eagles. Anderson is the best pass rusher in the draft and Arizona has to replace T.J. Watt and Zach Allen.
4. Indianapolis Colts: ANTHONY RICHARDSON, QUARTERBACK, FLORIDA
Another pick inspired by the Eagles. New coach Stane Steichen, the former offensive coordinator in Philadelphia, had tremendous success with quarterback Jalen Hurts. Colts owner Jim Irsay is a big fan of Hurts' style. Richardson has incredible athleticism, a strong arm and elite talent. He needs time to work on accuracy and mechanics.
5. Seattle Seahawks (from Denver): JALEN CARTER, DEFENSIVE TACKLE, GEORGIA
Before his off-field issues, Carter was a potential No. 1 overall pick if Chicago didn't trade down. He's too talented to slip further. Carter is the right fit for Seattle and coach Pete Carroll.
6. Detroit Lions (from Los Angels Rams): DEVON WITHERSPOON, CORNERBACK, ILLINOIS
Witherspoon has slid on some drafts probably because a hamstring injury limited his workouts. He was impressive at Illinois' pro day and is widely considered the top cover cornerback. The Lions had the NFL's second-worst pass defense in 2022.
7. Las Vegas Raiders: TYREE WILSON, EDGE, TEXAS TECH
Size, build, speed, Wilson has it all for an edge rusher. The Raiders can team Wilson up with Maxx Crosby to get after the elite QBs in the AFC West.
8. Atlanta Falcons: MYLES MURPHY, EDGE, CLEMSON
Murphy instantly upgrades a pass rush on a defense that had the second-fewest sacks in 2022.
9. Chicago Bears (from Carolina): PETER SKORONSKI, OFFENSIVE TACKLE, NORTHWESTERN
The Bears need to protect Justin Fields so it starts with Skoronski covering his blindside.
10. Houston Texans (mock trade from Philadelphia via New Orleans): LUKAS VAN NESS, EDGE, IOWA
After taking Young at No. 2, the Texans swing a deal in our first mock trade and move up to grab an elite edge rusher in Van Ness.
11. Tennessee Titans: WILL LEVIS, QUARTERBACK, KENTUCKY
Titans can't pass up this opportunity to take Levis. He didn't have eye-popping stats at Kentucky but he has size, build, makeup and experience in a pro-style offense that teams desire.
Georgia defensive lineman Nolan Smith at the NFL football scouting combine in Indianapolis, Thursday, March 2, 2023. (AP Photo/Erin Hooley)
12. Philadelphia Eagles (mock trade from Houston via Cleveland): NOLAN SMITH, EDGE, GEORGIA
Smith joins former Bulldogs teammates Jordan Davis and Nakobe Dean on a revamped defense in Philly.
Ohio State offensive lineman Paris Johnson Jr. runs a drill at the NFL football scouting combine in Indianapolis, Sunday, March 5, 2023. (AP Photo/Erin Hooley)
13. New York Jets: PARIS JOHNSON, OFFENSIVE TACKLE, OHIO STATE
Johnson has all the physical tools and intangibles to anchor the O-line, protect Aaron Rodgers and help the Jets improve their run game.
Oregon football player Christian Gonzalez (0) participates in a position drill at the school's NFL Pro Day, Tuesday, March 14, 2023, in Eugene, Ore. (AP Photo/Amanda Loman)
14. New England Patriots: CHRISTIAN GONZALEZ, CORNERBACK, OREGON
Gonzalez is an immediate starter for Bill Belichick's defense, giving the Patriots the bigger cornerback they lack in the secondary.
15. Seattle Seahawks (mock trade from Green Bay): JAXON SMITH-NJIGBA, WIDE RECEIVER, OHIO STATE
Seattle moves up to take the first wide receiver. Smith-Njigba teams up with DK Metcalf and Tyler Lockett to give Geno Smith another dynamic option.
16. Washington Commanders: JOEY PORTER JR., CORNERBACK, PENN STATE
The Commanders tab a physical cornerback, taking the son of former Pro Bowl linebacker Joey Porter.
17. Pittsburgh Steelers: BRODERICK JONES, OFFENSIVE TACKLE, GEORGIA
The Steelers get an athletic left tackle to protect Kenny Pickett's blindside.
18. Detroit Lions: CALIJAH KANCEY, DEFENSIVE TACKLE, PITTSBURGH
After selecting a CB earlier, the Lions continue to bolster a poor defense with an interior d-lineman who can get after QBs.
19. Kansas City Chiefs (mock trade from Tampa Bay): DARNELL WRIGHT, OFFENSIVE TACKLE, TENNESSEE
The Super Bowl champs move up to select a right tackle after more turnover on their offensive line.
20. Green Bay Packers (mock trade from Seattle): DALTON KINCAID, TIGHT END, UTAH
Kincaid will quickly become Jordan Love's go-to target as he settles into a starting role.
21. Los Angeles Chargers: ZAY FLOWERS, WIDE RECEIVER, BOSTON COLLEGE
Flowers slots in nicely with veterans Mike Williams and Keenan Allen.
22. Baltimore Ravens: CAM SMITH, CORNERBACK, SOUTH CAROLINA
Smith provides immediate help for a pass defense that finished 26th.
23. Vikings: JORDAN ADDISON, WIDE RECEIVER, USC
Addison is polished enough to instantly step in to replace Adam Thielen.
24. Jacksonville Jaguars: MICHAEL MAYER, TIGHT END, NOTRE DAME
Mayer upgrades the run game and pass game, giving Trevor Lawrence a potential top target.
Tennessee wide receiver Jalin Hyatt runs a drill at the NFL football scouting combine in Indianapolis, Saturday, March 4, 2023. (AP Photo/Michael Conroy)
25. New York Giants: JALIN HYATT, WIDE RECEIVER, TENNESSEE
Giants get a wideout with game-breaking speed in Hyatt.
26. Dallas Cowboys: BIJAN ROBINSON, RUNNING BACK, TEXAS
Cowboys replace Ezekiel Elliott with the best back in the draft.
27. Buffalo Bills: JACK CAMPBELL, LINEBACKER, IOWA
The 2022 Dick Butkus award winner replaces Tremaine Edwards.
28. Cincinnati Bengals: DEONTE BANKS, CORNERBACK, MARYLAND
Bengals add a physical, athletic cornerback to a depleted secondary.
29. New Orleans Saints (from San Francisco): MAZI SMITH, DEFENSIVE TACKLE, MICHIGAN
In a draft stocked with interior d-linemen, Saints get a big man with freakish athletic skills.
30. Chicago Bears (mock trade from Philadelphia): BRYAN BRESEE, DEFENSIVE TACKLE, CLEMSON
Chicago moves back into the first round to get a run stuffer.
31. Buccaneers (mock trade from Kansas City): BRIAN BRANCH, SAFETY, ALABAMA
After trading back, Bucs get a safety many have them taking at 19.