16 years later: Phish turns back the clock at Nassau Coliseum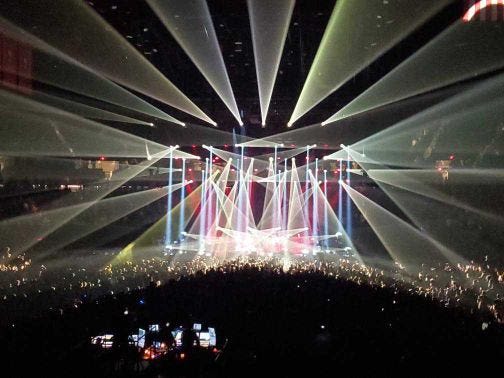 By Bob Doda, News 12 Digital
Before leaving for my first ever Phish show on April 2, 1998 at the Nassau Coliseum, my mother gave me advice that I still heed to this day:
"Whatever you do, don't crowd surf."
Sixteen-year-old me gave her the eye roll of the century. However, all I knew about the band at that point was that I really enjoyed "Slip, Stitch and Pass" – a live album with selected tracks from their March 1, 1997 show in Hamburg, Germany.
From the first licks of "
Cities
" through the pounding notes ending "Taste" – I soon realized that this was for me. And the show at the Old Barn turned out of be validation of months spent nodding my head to funky improvisation.
4/2/98 was also Phish's first Show in Nassau – part of an Island Tour that included two nights in Uniondale and two nights in Providence, Rhode Island. Each of the shows have tremendous highlights, especially the second night of Nassau, which featured a blissful "
Roses are Free
" and raucous "
Run Like an Antelope.
"
Of the previous seven times the band has returned to Long Island, I have been lucky enough to see them three times (4/2/98, 2/28/03 and 11/28/03). Their show on Sunday night marked their first time back in 16 years and four days.

I'm well aware that most people have no idea who Phish is – the band that has quietly sold out Madison Square Garden for four nights each year over New Year's Eve. They actually
have a banner there
, just like Billy Joel.
The condensed version of Phish's orgin goes like this: Guitarist Trey Anastasio and drummer Jon Fishman (the bands namesake) met at the University of Vermont in 1983. Soon after, bassist Mike Gordon joined them and eventually, keyboardist Page McConnell became a permanent member two years later. They weren't bound by any musical style. They played jazz, funk, bluegrass, blues, country… they played everything. They even covered "Big Pimpin'" with
Jay-Z in Coney Island
.
Since their inception, the band made it's name by playing live and keeping the fan base wondering what they would do next. There are plenty of inside jokes during shows, but on its face, the four musicians are consummate professionals who have a superhuman ability to listen to each other while they are playing – react and then respond with their own musical ideas. With so many songs in their arsenal, those who go to Phish shows never get the same exact experience.
As the saying goes: Never miss a Sunday show. Because they are usually heaters. This rang true yet again.
12/1/19 – Uniondale, NY - Nassau Coliseum

SET 1: Ghost > Rift, The Man Who Stepped Into Yesterday > Avenu Malkenu > The Man Who Stepped Into Yesterday Reprise > The Wedge, Martian Monster > Timber (Jerry The Mule) > Cool It Down > Roggae > Poor Heart > Tube > Character Zero
SET 2: Everything's Right > Down with Disease --> Cities > Carini > Ruby Waves > Twenty Years Later > Backwards Down the Number Line > Say It To Me S.A.N.T.O.S.
ENCORE: Roses Are Free > Slave to the Traffic Light
I was stationed in section 223 toward the rafters, but that didn't affect sound quality and the folks in our section were pleasant as punch. They were grooving in the aisles and singing along from the opening notes of "Ghost", which took its time to reach multiple peaks of joy.
The first set continued with old-school Phish, with the exception of Martian Monster – a funky cover of the Disney record "Chilling, Thrilling Sounds of the Haunted House." The band, especially Anastasio, played with much confidence through the intricacies of "Rift" and "TMWSIY."
The set stand out was most certainly "Tube." If the "Poor Heart" that preceded it was a square dance, Tube was a ho-down of different sorts. At one point, my guest asked me (as a joke), "Isn't dancing in the aisles a fire hazard?" But the only fire was coming from the stage, a scorched Earth set to remember. But this is Nassau, and expectations are always high.
The band took the stage again at 10 p.m. with "Everything's Right" – a masterclass in patient jamming that goes deep and sometimes dark. The spaceship-has-landed funk ride was aided, of course, by the lighting rig manned by Chris Kuroda, often considered a fifth band member.
The "Disease" segue into "Cities" was fun to watch unfold on the stage. Fishman clearly didn't want to discard the beat he had established in the Disease jam. After having his fun, he eventually caved to the slower version of the Talking Heads cover.
"Carini" took the excitement up a few notches. After the opening licks, you would have thought the Islanders just won their fifth cup.
If I was in charge of the set list, I'm substituting "Mercury" in for "20 Years Later." But you get what you get and you don't get upset.
The "Roses are Free" encore, a Ween cover, allowed the band to nod at the ghosts of Nassau past and "Slave to the Traffic Light" sent the Long Island crowd home on an uplifting note.
Then it was back outside into the November air - where the rain had all but stopped and traffic wasn't that bad toward the Meadowbrook Parkway. Everything's right, indeed.