'Yonkers police saved my life.' - Somers man who overdosed on heroin thanks officers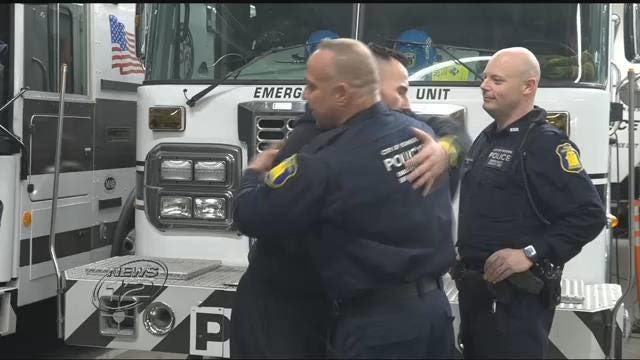 A 35-year-old from Somers came back to his hometown of Yonkers Wednesday to thank the men who saved his life.

"It's not a coincidence that I got clean in Yonkers. It's not a coincidence. Yonkers police saved my life," says Mark Bartelini.

Officers in the Yonkers Emergency Service Unit saved Bartelini from a heroin overdose in June 2016.

"During our intervention, he actually stopped breathing altogether so we introduced Narcan or naloxone,  which reverses the effects of the opioid overdose. We ended up manually ventilating him with oxygen," says Officer Thomas Allison, of the Yonkers Emergency Service Unit.

Bartelini tells News 12 his heroes went far above their call of duty, saying Officer Allison stayed in the hospital with him the whole time.

"He talked to me, he stayed with me. I don't think he had to stay with me. He stayed with me the entire time. He tried to get me to stay at the hospital just like the doctors did. I got a lot of support from the officers," he says.

Allison says Bartelini was in a bad place at that point and that they were proud he had the strength and courage to turn things around from a very negative incident to something very positive.

Bartelini says he is now living his dream. He owns his own company and works with children with autism and Down syndrome, as well as working with athletes and adults.
He is also a motivational speaker, raising awareness about substance abuse and mental health, which he says he couldn't have done without Yonkers police.