Yankees pitcher Germán suspended 10 games by MLB for using foreign substance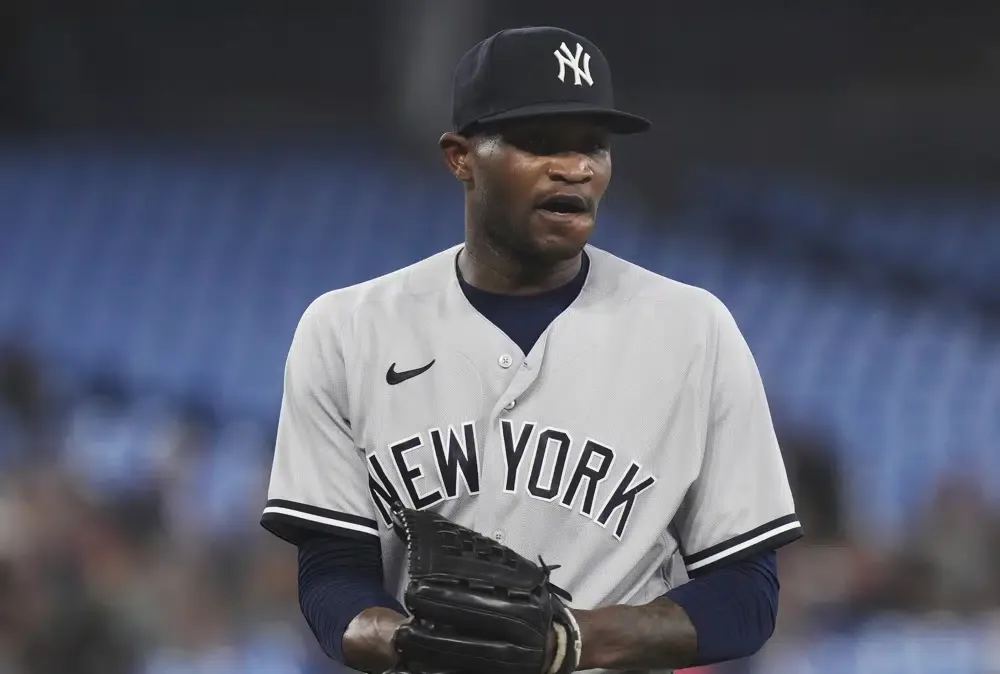 NEW YORK — New York Yankees pitcher Domingo Germán was suspended for 10 games Wednesday by Major League Baseball and fined for violating the sport's prohibition of foreign substances on the mound.
The penalty was announced following Germán's ejection in the fourth inning Tuesday night at Toronto for what an umpire said was "the stickiest hand I've ever felt."
"My fingers had a hard time coming off his palm," crew chief James Hoye explained after the game.
The punishment was imposed by Michael Hill, MLB's senior vice president for on-field operations. Germán did not appeal, and his penalty began with Wednesday night's game in Toronto.
Germán had retired his first nine batters Tuesday night. He denied Hoye's assertion, saying he didn't have anything on his hand other than rosin.
"It was definitely just the rosin bag," Germán said through a translator. "It was sweat and the rosin bag. I don't need any extra help to grab the baseball."
Germán's ejection was the fourth since Major League Baseball started its crackdown on prohibited grip aids two years ago, and the second this season.
Hoye's crew examined the 30-year-old right-hander during an April 15 start against Minnesota, when Germán retired his first 16 batters, but allowed him to stay in that game. Hoye had asked Germán to wash rosin off his hand and some had remained on the pitcher's pinkie.
Mets pitcher Max Scherzer was suspended for sticky stuff on April 20, and Seattle's Héctor Santiago and Arizona's Caleb Smith were suspended in 2021.