UConn women's basketball honors Gianna Bryant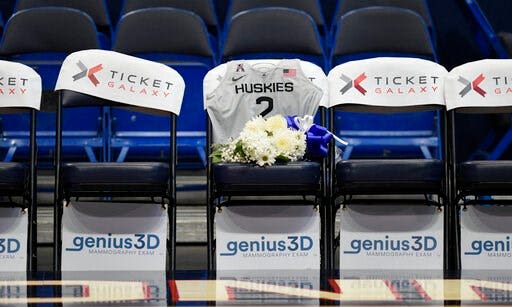 Kobe Bryant's 13-year-old daughter Gianna, who also died in Sunday's helicopter crash, was honored by the UConn women's basketball team Monday.
Gianna said her dream was to play college basketball at UConn. At the Huskies' game Monday, the team made a memorial for her on their bench featuring flowers and a jersey.
The team also thanked Kobe for his longtime support of collegiate and professional women's basketball.
The Bryants had become friends with coach Geno Auriemma and many of the former UConn players, including Breanna Stewart, who said Bryant was one of the first people to reach out to her when she got hurt in Europe in April.
"He knew what I was going through and wanted to assure me that I'd be OK," she said.
The teams huddled together at midcourt before the tip for a 24-second moment of silence. After the tip, the U.S. took an 8-second backcourt violation and then the Huskies let the 24-second shot clock expire. Those were Kobe Bryant's numbers in the pros.
Associated Press wire services contributed to this report.