Suspect in custody, second allegedly escaped unnoticed after armed robbery in Newburgh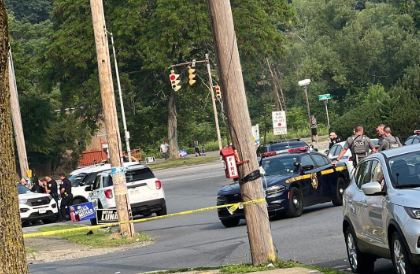 One suspect is in custody, and another allegedly got away after an armed robbery and hours-long police response at a gas station in the City of Newburgh Saturday.
Tyreek Shelby was eventually arrested at the Valero on Lake Street after barricading himself in a back room and was found hiding in the ceiling, according to the criminal complaint obtained by News 12.
According to a law enforcement official who spoke to News 12 under the condition of anonymity, the second suspect escaped out of the back door after police responded with the firearm used in the robbery and a backpack filled with proceeds.
Court documents indicate that the men entered the Valero at 3:25 a.m. City of Newburgh police arrived five minutes later and observed both suspects run to the back of the store, according to the complaint.
During the incident, the suspects allegedly fired three rounds into the floor and pistol whipped the clerk while demanding he obtain cash from the register and safe.
The clerk got out safely when police arrived and the incident, including a multi-agency and SWAT response, was largely seen unfold throughout the morning on social media.
It's not clear how or when the second suspect escaped unnoticed.
Shelby is being held in Orange County Jail on $75,000 bail, $250,000 bond and $750 partially secured bond.