Solar tree at Pace University offers shade, Wi-Fi and more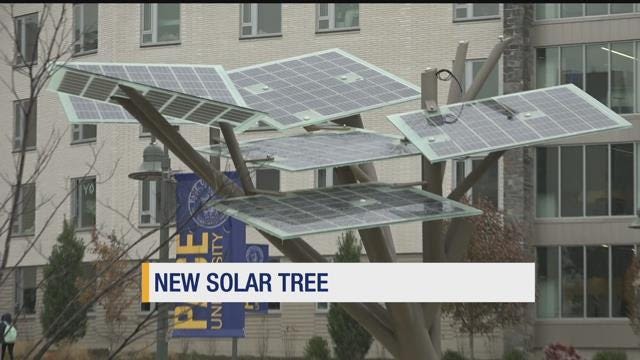 A nearly 15-foot-tall E-tree has been planted on Pace University's campus.
News 12 was told it started as a tiny seed.
"The beginning of this semester, I actually saw them kind of build it up and put it in, and I think what's special about this tree, is that it's in the middle of campus," says Kelly Lang, a student at Pace University.
The tree originated from a group of students who brainstormed the design and brought it to life.
It offers Wi-Fi, USB-ports, an LCD display screen and night lights all powered by seven solar panels suspended from branches.
"This is something students saw, that we needed on this campus, and we wanted to allow this opportunity for students to be able to have a more green approach on this campus, and be able to help our environment in any way possible," says Pace University student, Grainne McGinley.
The new campus addition has already sparked conversation.
"A lot of residents live here in these dorms, and this is a reminder for them to really think about conserving their energy in their dorm room,"
News 12 was told the tree is already a hot commodity. When nice weather permits, students can be found outside on their laptops, using the tree for shade and charging abilities.