Scavenger hunt, dino-riffic eggs and eggcellent decorations! Celebrate Easter with these 6 ideas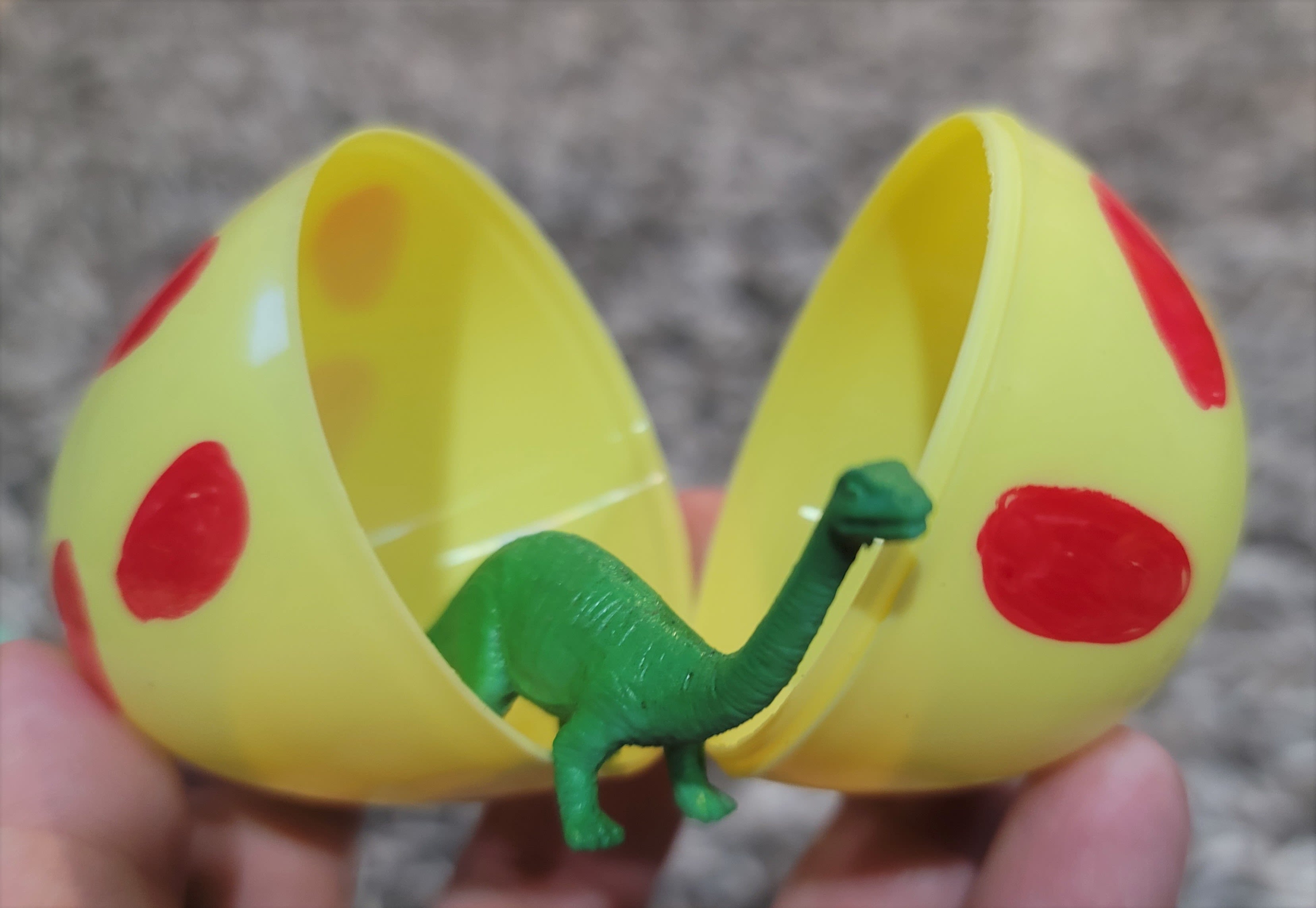 Having an egg hunt is something kids look forward to on Easter Sunday. Having a traditional Easter egg hunt is always fun, and includes searching for plastic eggs around the house with different candies or money inside, or perhaps just looking for a hard-boiled egg that was decorated the day before. 
If you are looking for alternative items to put inside plastic eggs, besides candy or money, we suggest putting stickers, kids tattoos, tiny dinosaurs, bracelets, rings, slap bracelets, mini LEGO figures, silly putty, play doh, stamps, mini erasers, bouncy balls, tiny bubbles, tops, sticky hands, chap sticks, nail polish, hair bows, mini cars, whistles, noise makers, and any other little toys you may find at your local Party City, Dollar Tree or on
Oriental Trading
.
Easter egg scavenger hunt
If you want to do something completely different and fun for your kids, I suggest doing an Easter egg scavenger hunt in your backyard. Your kids will be so excited finding clue after clue inside the plastic Easter eggs. I came up with fun riddles that you can put into plastic Easter eggs and in the end your child will find their Easter basket. Totally memorable and fun for your child(ren) to do to get their Easter basket year after year.
Examples of some of the clues are:
*Easter is here and we are as happy as can be. The first clue to be found will be under a tree.
*Silly clues make me smile. The next clue is near a leaf pile.
Dinosaur Easter egg hunt
Have a Dino-riffic time with your egg hunt by decorating your plastic eggs with Sharpie markers. All you have to do is add large spots on the eggs in different colors to make some fun eggs that look like a dinosaur egg. Inside are mini dinosaurs that any dinosaur fan will love.
Glow in the dark Easter egg hunt
There is nothing wrong with having two Easter egg hunts on Easter. Once your children find all their eggs in the morning put some of the eggs aside and put glow sticks inside of the eggs. You can put tea lights inside, as well. Activate your glow sticks or turn on your tea lights before closing the eggs and hiding them around your house at night with the lights off or hiding them in your backyard. See how many eggs your kids can find in the dark. This is totally fun, and even the older kids in your family will love being part of this egg hunt.
DECORATING HARD-BOILED EGGS
If you want to decorate some hard-boiled eggs in fun different ways and hide them for your egg hunt, we suggest trying one of the following ways:
Dye your eggs naturally
Using vegetables and spices you can create beautiful natural dye eggs. This method requires an adult boiling in water to create the dye. The kids can help once the natural dye is made. The hard-boiled egg will sit in a cup for at least 2 hours to get a bright and vibrant color. The Tumeric yellow/ gold color happens quickly, just 10 minutes for that color.
Read the step-by-step directions here
.
Cool Whip and food dye
This is a great method for toddlers and any kids who love to get their hands messy. Be aware food dye, coloring can color your hands so just be aware that your kids hands may be very colorful if you don't use gloves or tongs when coloring your eggs this way. All you need to do is fill a container or bowl with Cool Whip and your food dye and mix well. Place your hard-boiled egg in the container gently and cover with colored Cool Whip completely. Place in an egg container overnight in the fridge for about 12 hours. Use a paper towel to wipe clean and you will have beautiful marbled colored eggs.
Read the step-by-step directions here
.
Baking soda + food dye + vinegar egg coloring
Science takes over this egg dyeing technique! Now, this is an exciting way to dye your eggs with some BUBBLING and FIZZING fun! Fill the bottom of your container with baking soda and mix some food coloring into the baking soda. Place your hard-boiled egg gently into the bottom of the container and add vinegar SLOWLY. Within a minute your egg will be covered in color. Set the egg aside in an egg carton to dry. You might want to have a lot of eggs already hard boiled because your kids are going to want to do this over and over, again. The result is different every time. The eggs look beautiful don't they?
Read the step-by-step directions here
.