Report: Cespedes' ankle fracture caused by wild boar encounter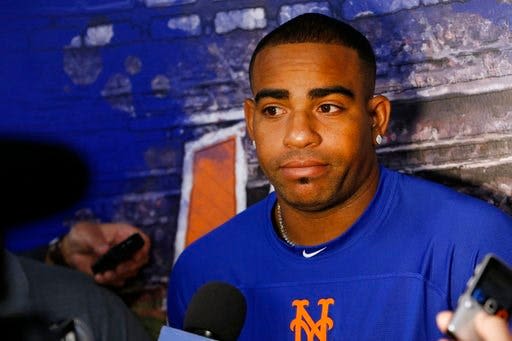 The cause behind Mets outfielder Yoenis Cespedes' mysterious injury that has kept him out of his team's lineup may have finally been revealed.
The New York Post is reporting
that Cespedes' ankle fracture came as a result of an interaction with a wild boar on his Port St. Lucie ranch. According to the report, Cespedes was either charged at or startled by a boar, which led him to step in a hole, causing the injury.
The Mets announced the injury last spring, but GM Brodie Van Wagenen said it was due to a "violent" fall. The Mets provided no additional details into how it happened.
The left fielder was already due to be out for a majority of 2019 following surgery on both of his heels.
Just a few weeks ago, Cespedes' base pay for 2020 was cut down from $29.5 million to $6 million, according to the Associated Press. Per the report, he has opportunities through incentives to boost his pay throughout the season, should he play.
Cespedes was a driving force behind the Mets' 2015 World Series run. He has hit 74 home runs over 308 games with the team, and was an All-Star selection in 2016.
The Cuban outfielder's agent declined to respond to the New York Post in relation to the report.