Labor union members rally for jobs on public projects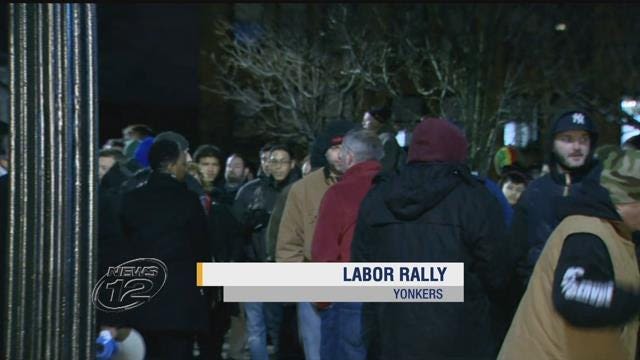 Labor union members from across the Hudson Valley rallied in Yonkers to ask the city to extend a one-year agreement that would give union workers jobs on public projects.
Union members from dozens of different labor unions were at the rally hoping to send a message to City Hall that any developer who gets tax cuts to build a big project in Yonkers should have to use union labor.
That's the deal City Hall made with the union workers last year at this time.
The city-run Yonkers Industrial Development Agency signed off on a one-year agreement, mandating that all new developments over $5 million that receive financial incentives from the city have to use local union labor.
Yonkers officials said they are not renewing that agreement, arguing that it just gave union members the excuse to jack up labor prices, which in turn shut down all construction projects in the city last year.
Yonkers Mayor Mike Spano said no other municipality in the state allows labor unions to negotiate directly with developers.
"We gave these leaders the ability to negotiate with these developments. And you know what? For a whole year there were no major developments coming forward in Yonkers because there was an inability for either side to negotiate," said Spano.
Spano said the city wants to go back to what it used to do -- negotiating directly with developers on behalf of the labor unions. He says that model brought in lots of labor jobs.
Union members say developers were being greedy and don't want to pay fare wages to documented, local workers.
Union members say they plan to put pressure on the city politically in any way they can to get a deal that works for them.