Kreider helps Rangers beat Devils 5-2 to force Game 7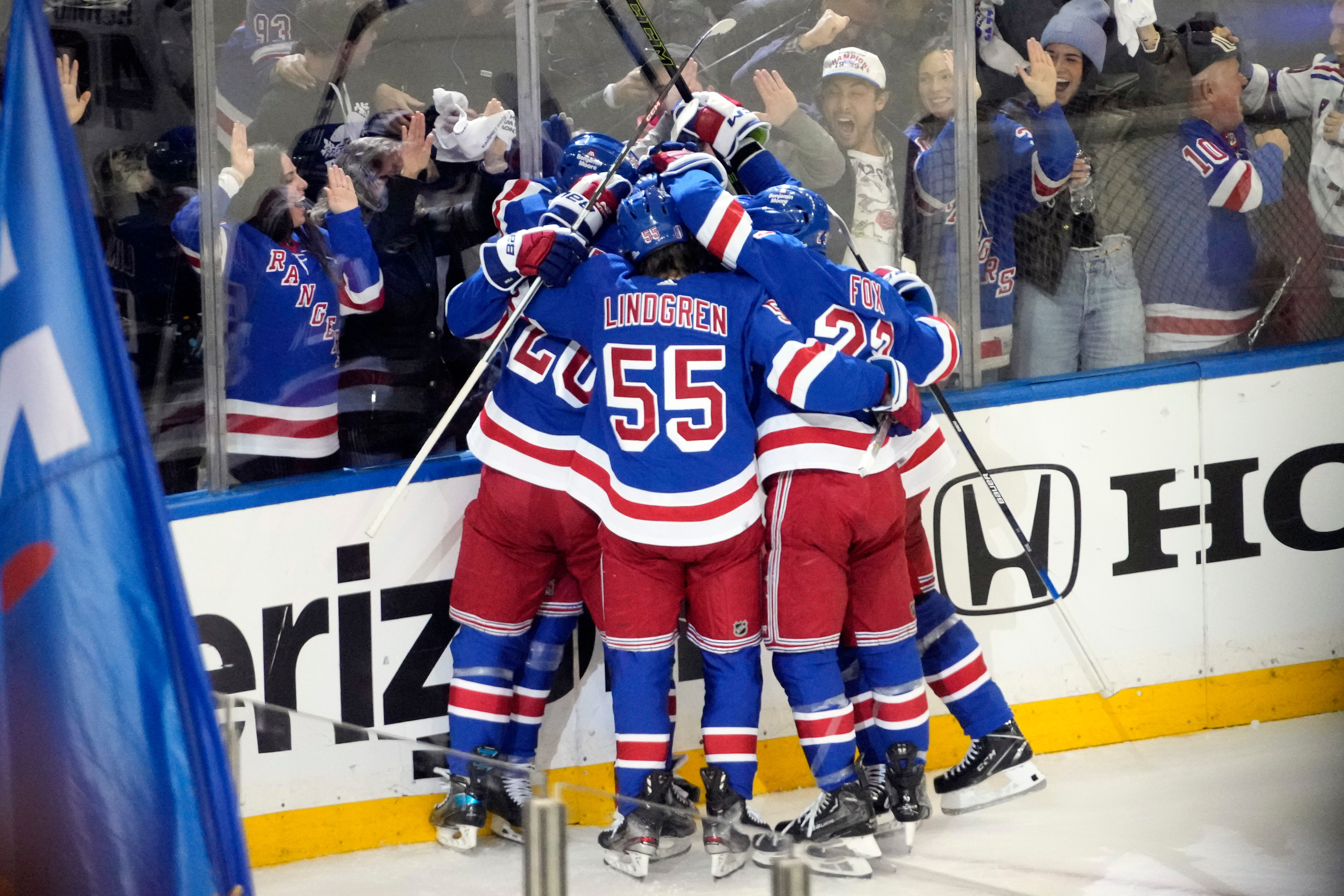 Pushed to the brink of elimination, the New York Rangers found their offensive touch.
Chris Kreider had another power-play goal and two assists as the Rangers beat the New Jersey Devils 5-2 on Saturday night to force a deciding Game 7 in their first-round series.
Mika Zibanejad and Vladimir Tarasenko each had a goal and an assist for New York, which totaled just two goals while losing the previous three games. Barclay Goodrow and Braden Schneider also scored, and Adam Fox added two assists. Igor Shesterkin stopped 34 shots.
"We came here to win one game, I think you heard everyone talk about that," Zibanejad said. "Wins are all that matter and we got the win we needed and wanted tonight. Now we just keep going."
Looking to jump-start the lagging offense, Rangers coach Gerard Gallant shuffled his lines, moving Tarasenko up to the top line with Kreider and Zibanejad. It paid off as the trio combined for three goals and four assists.
"The team just played well as a whole," Kreider said. "We played together, did a lot of things we talked about and executed well."
Curtis Lazar and Dawson Mercer scored for New Jersey. Akira Schmid, who had stopped 80 of 82 shots over the previous three games, was pulled after giving up five goals on 29 shots.
"We did a lot of good stuff tonight," Devils coach Lindy Ruff said. "Generated a lot of good opportunities. I thought penalties hurt us."
Game 7 is Monday night at New Jersey.
"We worked all year long to have home-ice advantage for Game 7," Ruff said. "What a game to be in. ... I know this team will give me everything they've got."
Trailing 3-1, the Devils had 14 consecutive shots — including seven that were blocked — in the third period. But the Rangers closed it out after that stretch.
New York opened a 4-1 lead on Goodrow's first goal since March 12. Jimmy Vesey fired a shot off Schmid's pad and glove and Goodrow knocked the puck out of the air and in at 7:23 of the third period.
Schneider then made it 5-1 when he got a pass from Niko Mikkola and fired a shot past Schmid with 7:32 left for his first career playoff goal.
"They battled hard, competed hard," Gallant said. "When your backs are against the wall, you have to play your best game. I thought we did."
With the Devils on a power play, they pulled goalie Vitek Vanecek with about 5 1/2 minutes left for a 6-on-4 advantage and Mercer beat Shesterkin.
The Devils pulled Vanecek again for an extra skater but Shesterkin stopped a tip by Nathan Bastian with 2:22 left, and then had a stellar save on Nico Hischier's point-blank attempt on the follow, drawing chants of "I-gor! I-gor!" from the Madison Square Garden crowd.
The Devils had several good short-handed chances early in the second but Shesterkin stopped Mercer's shot from the right side and Erik Haula's backhand attempt on the rebound to keep the score tied 1-1.
Zibanejad then put the Rangers in front when he scored from the slot off a pass by Kreider from behind the goal line with 9:50 left in the second. It gave the Rangers their first lead since the second period of Game 3.
Tarasenko got a pass from Kreider and fired a shot into the top right corner from between the circles with 1:35 remaining in the middle period. It was his third goal of the series.
The Rangers managed just three shots on goal on their first power play about five minutes into the game to fall to 0 for 14 dating back to the third period of Game 2 after scoring four times on their first seven opportunities.
Lazar scored for the Devils with 8:11 left in the first. He knocked in the rebound of Kevin Bahl's shot for his first goal of the series.
The Rangers tied it on their second power play when Zibanejad's shot from the left point deflected off Kreider and in with 25 seconds left in the opening period. It was Kreider's sixth goal of the series and fifth on the power play, making him the first Rangers player to have five in a series since Adam Graves in the 1996 conference finals.
"They got puck luck on that goal," Ruff said. "We did a good job killing penalties, so you deal with that and move on."
SELECT COMPANY
Kreider got his 16th goal when facing elimination, tying Mark Messier for the most in NHL history. ... Kreider is one power-play goal away from tying the NHL record for a series set by Chris Kontos in 1999.
The Rangers' other shuffled lines had Filip Chytil and Kaapo Kakko moved up to the second line with Artemi Panarin. Vincent Trocheck and Patrick Kane were dropped to the third line with Alexis Lafreniere. Goodrow, Jimmy Vesey, and Tyler Motte remained unchanged on the fourth line.