Forum focuses on better ways to secure houses of worship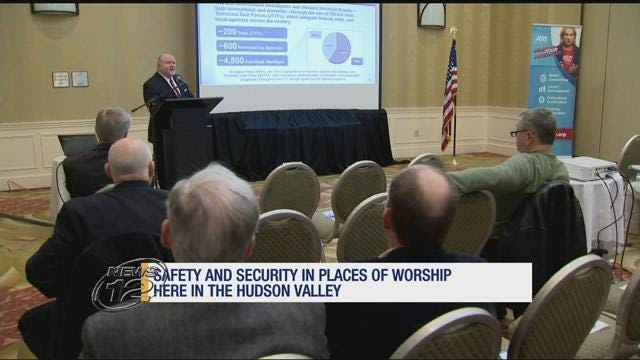 Representatives from dozens of law enforcement agencies and faith-based organizations gathered at the Double Tree Hilton in Tarrytown Thursday for a special forum focused on better ways to secure houses of worship.
The symposium was hosted by the Hudson Valley Chapter of ASIS, a global organization of security professionals.
Representatives from several Hudson Valley sheriff's offices, including Orange County were on hand. The head of the FBI's counterterrorism division in New York was one of the keynote speakers.
ASIS officials say the idea for the forum came about after last October's massacre at a synagogue in Pittsburgh when a gunman walked into the synagogue during morning services and shot and killed 11 people and injured seven others.

"Houses of worships are what we call soft targets. Unfortunately, by the nature of houses of worship, they invite and welcome everybody in, and this symposium is to encourage them how to secure their house of worship," says Jerry Heying, of ASIS Hudson Valley.
One security expert told News 12 that more and more synagogues, as well as Jewish schools and organizations, are having bulletproof glasses installed to make themselves more secure.
Members of the Orange County Sheriff's Office were also on hand to talk about Operation Arch Angel. The initiative trains parishioners how to defend themselves.
Some security vendors also showed off their high-tech devices at the event.