King Street Bridge project completed, meant to curb bridge strikes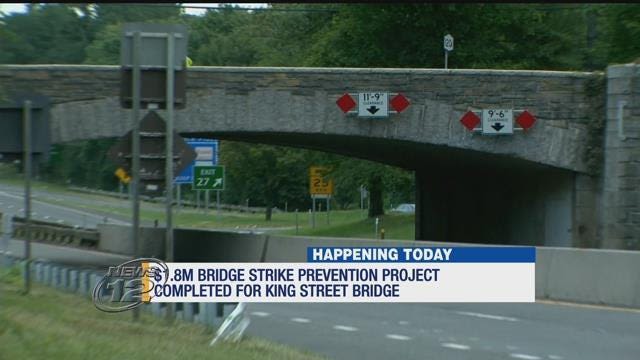 The nearly $2 million state project that aims to curb bridge strikes on the King Street Bridge in Rye Brook has been completed.
The King Street Bridge is notorious for being struck by trucks. The Department of Transportation says the bridge was struck 130 times from 2008 to 2018 even though it was rigged with some warning devices. That is more than any other bridge in the state.
The DOT says last year alone there were 24 bridge strikes.
The state project aimed to decrease the number of strikes with some fixes. One change includes the installation of two over-height detectors before the bridge at exits 26 and 29 of the Hutchinson River Parkway. The project also upgraded the existing detection system at King Street exit ramp.
Friday morning, officials gathered in the area to announce the official completion of the project.
News 12 has covered many of the King Street Bridge strike accidents. Most of them were caused by out-of-town truck drivers who say their GPS led them to the bridge for their route.
Westchester County Executive George Latimer at the gathering said that truck drivers can ride the roadway right up until they reach the King Street Bridge.
"It's very logical for a trucker who doesn't know the area and is coming north on the New England Thruway to get off on Mamaroneck Avenue and get on the Hutch or get off Westchester Avenue and get on the Hutch and presume they can travel parallel on this roadway," he says. "And it works up until the King Street Bridge."